Saturday, August 18, 2012
Have you ever gone to Disneyland or Disneyworld? If so, do you remember getting up at the crack of dawn in eager anticipation of the day's events? Well, I had expected to sleep until my alarm sounded at 6:30 AM, but the amusement park-like excitement popped my eager eyes open at 5:30 AM. I tossed and turned until 6:00 AM and finally gave up and got out of bed.
On June 28, 2000 Randy Thompson and I had walked three miles from the Hurricane section house to Hurricane Gulch to take photos of the southbound passenger train as it crossed. Although I loved the photos I snagged, I just wished I could have gotten a side view of it all from further down the gulch. From that day forward I studied topo maps and satellite images trying to figure out the best place to do this. Last year my friends Dave Blazejewski (ARR Transportation Superintendent) and Frank Keller (ARR crew driver) figured out how to do just that. I begged Dave to take me there during my next Alaska trip. I didn't really need to beg, but figured my relentless pestering would cement the deal.
So today was the day to make the exciting trip to the ridge. I met Frank Keller at the Anchorage Operations Center's parking lot at 7:30 AM. Frank had gotten off work at 5:30 AM and was looking a bit bedraggled. We waited a short time for Dave and then called his home to serve as his alarm clock.
Once Dave finally got there, we all piled into his car and headed north. We made a quick stop in Wasilla for breakfast at the Trout House. This business goes by a bunch of names such as The Windbreak (hotel), Trout House and Trout's Place. It feels like a throw back to the 1960s (both in furnishings and customer apparel) and the main wall is covered with fishing trophies. As we walked through the restaurant looking for an empty seat I checked out various people's food plates and spied thick slabs of bacon and ham, fresh hash browns, huge stacks of pancakes and fat slices of toasts. This place was definitely worth the stop!
Refueled and refreshed we resumed our journey. Well, except for Frank who dropped off into blissful slumber. After driving for a bit, Dave pulled into a rest stop and announced this would be the last facilities available until we got off the trail. We all definitely took advantage of this opportunity. Just before hoping back into the car, Dave noticed something unusual in the lower parking lot. It was a huge collection of old military vehicles! I talked to a grizzled gentleman in one of the vehicles and learned the Military Vehicle Preservation Association was driving up the Alaska Highway (ALCAN) and beyond in celebration of its 70th anniversary of construction. Many of the people had driven one to two thousand miles just to start the convoy and they all kicked it off at Dawson Creek BC. Their trip would encompass over 4,000 miles in 27 days. There were 77 military vehicles present with 33 from World War Two, 11 from the Korean war, 17 from the Vietnam era and 14 from Desert Storm. Many of the vehicles had upgrades such as radios and seat heaters.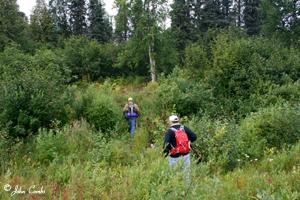 Looking at his watch, Dave said emphatically that we needed to go. His plan was to get us out to ridge in time to photograph four different passenger trains crossing Hurricane Gulch. We crossed the Hurricane Gulch Bridge about half an hour later and Dave quickly recognized our entry point. We each brought day packs which containing photography gear, snacks, drinks and tools. My guides also brought along a razor sharp machete, shotgun and Chanel #7 bear spray. As the Boy Scout Motto goes, Be Prepared!"
I was a little bit concerned about the hike. I had incurred a back injury in 2005 and subsequently had lumbar disc #5 removed in 2006. Since that time strenuous hiking had become a challenge for me. Although our total elevation change would be less than 100 feet and the total distance less than a mile, I knew the spongy tundra would prove to be quite a workout. Fortunately, my friends had taken a lot of effort to make things easier for me. They had already made five trips out to the ridge and had used the machete to clear a crude path. Plastic streamers were attached to sporadic tree branches making it tough to get lost. The hemoglobin-seeking mosquitoes were helpful too as they barely attempted to siphon me whenever I stopped.
When we finally reached the ridge, I felt, for the second time this trip, that I was walking among giants. It may have been the fact that I had worked hard to reach this spot, but I found the view across the gulch to be more beautiful than I had imagined. On previous trips the boys had used their machetes to clear vegetation off the ridge a good thirty to forty feet wide thus making for an unobstructed as well as an incredibly majestic view. With a little bit of time to spare, we munched our snacks, sipped our drinks and played with our cameras. I confessed I was concerned that I might not have the camera set correctly for the very overcast weather and would probably blow my one and only opportunity at capturing this special moment. Frank took my camera and within seconds had the best settings entered in. At one point Dave joked, "Would you like us to press the shutter button for you too?" No, I thought I could handle that task.
And then came the parade of trains! Northbound passenger, southbound passenger, northbound Princess Express, Hurricane Turn. For almost an hour all I heard was the whirring of digital cameras capturing unforgettable photographs. Each train hung on the bridge for long periods of time so every passenger could see the spectacular view and grab a few photos. The train crew on the Hurricane Turn caught sight of us and we spent several minutes exchanging waves. And then the trains were gone. Like celebrities, we all posed for photos with the bridge in the background. Then it began to sprinkle which was nature's way of telling us it was time to move on.

| | | |
| --- | --- | --- |
| | | |
| Dave and Frank waiting for the trains | Northbound passenger | Northbound passenger |
| | | |
| Southbound passenger | Southbound passenger | Southbound passenger |
| | | |
| Princess Express | Hurricane Turn | Hurricane Turn |
| | | |
| Smiling John and the Hurricane Turn | Dave and Frank - two awesome friends! | |

I warned the boys I would be slow going back. Dave said he would bring up the rear as he wanted to stop and pick blueberries for a homemade pie. As was the case with so many things, the return trip seemed to go so much faster. Or maybe it was the fact Frank found fresh bear scat on the trail!
| | | |
| --- | --- | --- |
| | | |
| Fearless Frank kept us safe | Fresh bear scat on the trail! | Nice view across the road from our car |
Back in the car Frank grabbed some more shut-eye. I asked Dave if he would mind stopping to hunt a geocache on the way back. He was pretty excited about doing this as he had never been geocaching before. Checking my GPS unit I saw there was a regular size geocache at our previously visited rest stop. Upon arrival I gave Dave my GPS and let him follow the needle. Once we got within ten feet of our destination it was time to begin the hunt. After searching through lots of brush Dave finally located the geocache (an ammo box) and by the smile on his face I knew he loved it!
Back in the car, Dave highballed it back south. One semi-interesting sight was a pick-up truck with two ATVs and clusters of antlers in the rear bed. You definitely would not see something like this on the roads of Dayton, Ohio. We finished off our adventure with a meal at The Last Frontier Brewing Company. To show my appreciation for all their hard work, I bought dinner for my two friends.

We return to the AOC parking lot at 10:30 PM feeling exhausted yet feeling extremely satisfied. There were hearty handshakes all around and I had a lump in my throat as I drove away. What an unforgettable day it had been and what an awesome pair of friends! When I finally crawled into bed at the hotel I noted fifteen hours had passed yet the time seemed to have flown by.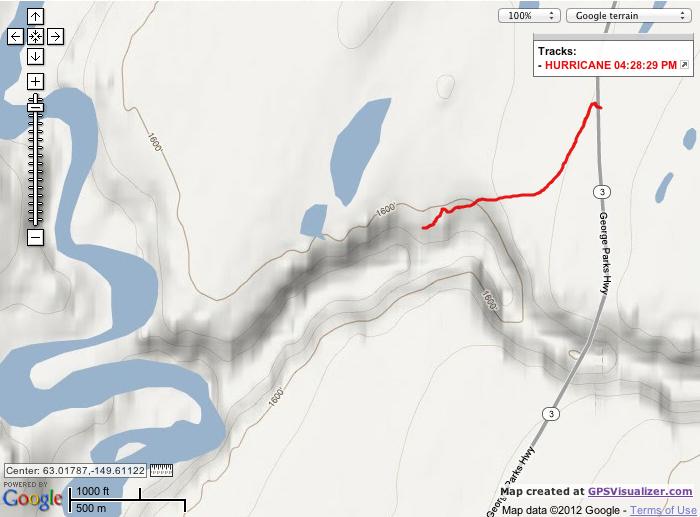 Topo map of our route (in red) from the Parks Highway to the Hurricane Gulch overlook point