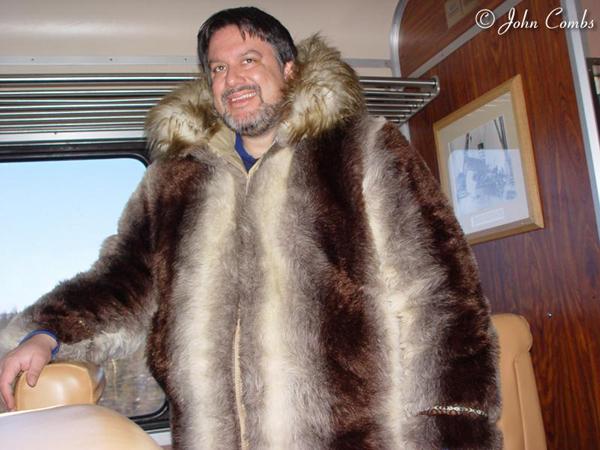 Prologue
So there I was…preparing for my fourth trip to Alaska…a calendar in front of me…a shoe horn in one hand…and a bizillion things I want to do in the other. My wife entered the room and told me it didn't matter how much I cram into the 11-day trip; I would always need just two more days. And she's right.
Everyone asked me the same two questions. "Why go to Alaska in the winter?" and "How long will you be gone?" Well, I've always wanted to see the Alaska Railroad while it waged it toughest seasonal battle with Mother Nature. Furthermore, there are not many photographs out there of my beloved ARR and snow. Why? Because it takes a diehard (deranged?) railfan to brave the extreme cold, fierce winds and deep snows. When I asked Alaskans the best time of winter to railfan, their replies were almost invariably the same – March. At that time of the year there is more light for photography, much warmer temperatures and still a lot of the white stuff. As an added bonus, I could be there for the ceremonial start of the Iditarod in Anchorage on March 6.
All I had left to do was pick my arrival and departure dates. I have been an adult leader of Boy Scout Troop 325 for the past 26 years. On March 2 my son would be bridging from Cub Scouts into my Boy Scout troop. At last, a son of my own in the troop! There was no way I was going to miss his bridging ceremony! Therefore, I would leave on the morning of March 3. So now I had to determine the departure date. My wife's birthday falls on March 14. Although she is quite insistent that she has no problem not celebrating it on the specific date, I feel that a wife who turns her husband loose to visit Alaska any time he wants deserves to have him there on her special day. I booked my tickets through Expedia for March 3-13. Darn! If I could just extend it another two days!
This journal is about the 11 days I spent railfanning the Alaska. Currently, this journal contains 115 photos (plus thumbnail photos) and thousands of words that occupy 10.2 megabytes. Additionally, there are fourteen Quicktime videos which chew up another 14.3 megabytes. Do you get tired of doing all those mundane tasks at work? Things getting a little boring around the house? Then take a break and read a day or two from this journal. Just remember my worst day of vacation is always better than my best day at work!
And now my standard warning - Please be advised that all Alaska Railroad yards, sidings, section houses, tunnels, access roads, etc. are posted no trespassing and that entering them without permission is a violation of law. It can also be very dangerous. Dismemberment by train can be very messy. I also found that security was tighten even further following the events of September 11. Additionally, don't expect railroad employees to drop everything they are doing just to give you a tour or escort you. Being the Alaska Railroad's number one fan got me a lot of special privileges. Hey, why not just visit my web site instead?!? It is safer, faster and cheaper. Free is good!
John Combs
3/30/04