Do you want to show your Alaska Railroad spirit on your PC? Well Gunter Schwindt has graciously provided us with an Alaska Railroad screensaver! This program uses the runtime-version of Matchware Mediator Viewer and also includes an uninstall program. Cool!
Requirements:
1. An IBM compatible PC (sorry Macintosh folks!)
2. A 1024 x 768 or 800 x 600 display
3. 500MHz or faster
4. A love for the Alaska Railroad
Installation instructions:
1. Uncompress the Zip file
2. Run the install.exe program (enjoy the German dialog boxes!)
3. Enjoy!
I am a Macintosh user, but I got it to work on my computer using Virtual PC. It looks great!
Software:
1. 800 x 600 version (shorter trains)
2. 1024 x 768 version (longer trains)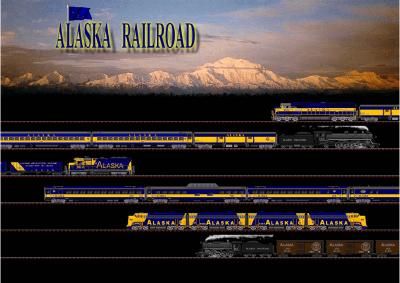 Here is a sample of the screensaver
If you like his screen saver, please send him a word of thanks at Guenter.Schwindt@t-online.de. Also, please visit his website at www.guenter-schwindt.de for more Alaska Railroad goodies.
Created 2/23/02 and last updated 6/6/05
© 2002 Gunter Schwindt