Usibelli Tipple
M.P. 362.3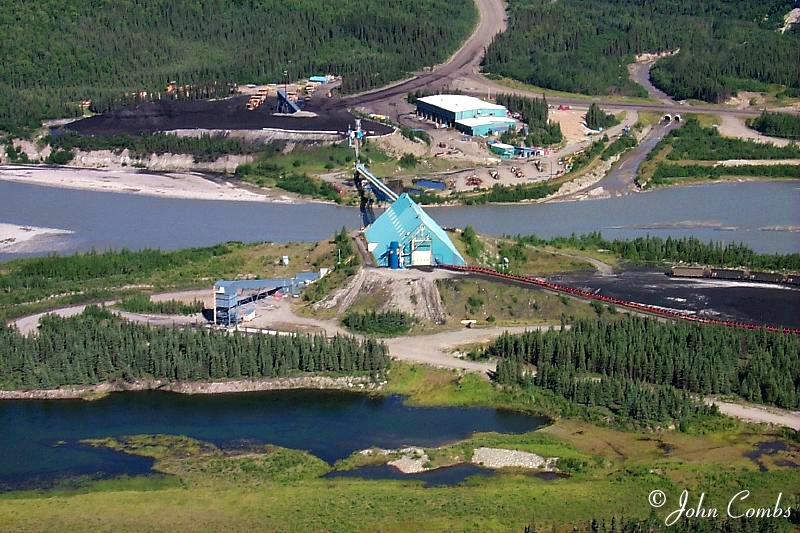 In 1981, Usibelli Coal Mine constructed a new coal preparation/loading facility located closer to the current mining site. The facility, known as a tipple, is a preparation plant which crushes coal and loads it into railcars for shipment to customers. It went into operation in January 1982.
Coal removed from the mining site is loaded into 75 ton capacity end-dump trucks for transport to the
tipple, two miles away. The coal is dumped into a hopper on the east side of the Nenana River. Here it is crushed and transported across the river by conveyor. On the west side, the crushed coal is stored in an A-frame building with a storage capacity of 13,000 tons. The top story of the A-frame contains a tripper which unloads the coal from the conveyor and distributes it the length of the 110 foot by 200 foot building.
A railroad spur off the main line of the Alaska Railroad runs directly beneath the A-frame through a
tunnel. The coal isolated by gravity from the storage pile in the A-frame, into railcar. The railcars are loaded on the move as a locomotive slowly pulls them through the load out tunnel beneath the A-frame. While loading, the train travels at a speed of one half mile per hour. Forty-five 75 ton capacity hopper bottom cars can be loaded per hour.
UCM loads approximately 130 cars/week for Suneel to send to Korea. These cars head south to Seward. UCM loads around 400 cars/week during the winter months that head north. UCM loads around 150 cars/week during the summer months that head north.
Click here for a railroad yard map of Usibelli Coal Mine, Inc.
Click here to learn about Usibelli Coal Mine, Inc.





Page created 12/1/99 and last updated 12/1/99