Mount McKinley
History
Mount McKinley is the tallest mountain in North America. Although there are many taller mountains in the world, McKinley is one of the most impressive. With its base at nearly sea level and its summit at 20,320 feet, it is said to have one of earth's steepest vertical rises.
W.A. Dickey named the mountain after President William McKinley in 1897. Prior to that time the Athabaskan Indians of Interior Alaska called it Denali, meaning "The High One." In other regions of the state it had different names: Doleyka, Traleika, Bulshia, Gora and Tenada. It was called "Dunsmore's Mountain" by the English speakers. Efforts over the years to officially rename the mountain Denali, the Athabaskan name, have been unsuccessful.
The Sourdough Party made the first successful climb of Mount McKinley in 1910. Prior to the Sourdough climb, people believed that the North Peak was the higher peak. Via the Muldrow Glacier, the Sourdough Party hauled a forty-foot spruce pole and flag to the top of the North Peak. They discovered at the summit, however, that the South Peak is in fact higher by 850 feet. Their flag was not visible from Fairbanks, thereby leaving the climbers with only their word as proof of their feat.
On June 7, 1913, the Karstens-Stuck expedition conquered the true peak of Mount McKinley. With Harry Karstens and Rev. Hudson Stuck were Robert Tatum and Walter Harper. From their vantage point atop the South Peak they could look across to the North Peak and see the flag pole left by the Sourdough Party. Harry Karstens went on to become the first superintendent of Mount McKinley National Park in 1917.
Climbing Mount McKinley
The National Park Service implemented a program designed to both enhance the educational outreach for Denali mountaineers and to defray the costs associated with managing mountaineering activities on Mount McKinley and Mount Foraker. This program includes a 60 day preregistration requirement and a Mountaineering Special Use Fee. Climbers are charged $150 per person to climb Mount McKinley or Mount Foraker.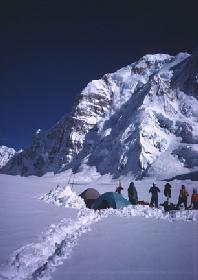 Over the past few years, climbing Denali has become a popular activity, with 1,166 individuals challenging themselves on Denali's flanks in 1998. Out of these 1,166 climbers, one died, bringing the total number of deaths on Denali to 88. Typically, 50% of climbers are successful in reaching the summit, though 1998 had many fewer success stories. The average time spent on the mountain for all expeditions was 17 days. More importantly, the average length of stay on the mountain for a successful summit team was 21 days.
"The fact that the West Buttress route is not technically difficult should not obscure the need to plan for extreme survival situations. Of course, some climbers manage to get up and down in perfectly nice, but rare period of weather; when back home, they encourage others to climb this "easy walkup" of a mountain. Little do they realize that it was only by sheer luck they weren't trying to keep their tent up in the middle of the night in a 60-mph wind at 40 degrees below zero, with boots on and ice axe ready in case the tent suddenly imploded. Because of the nontechnical reputation of the popular West Buttress route, it is a terribly underestimated climb." -- Peter H. Hackett, M.D. from Surviving Denali by Jonathan Waterman
"As we made our way slowly, we were surprised to see figures ahead. We could make out two climbers sitting in the snow, with equipment strewn all around them...they were two lads of about twenty. One was wearing a black silk glove that had ripped apart to reveal yellowing fingers, frozen solid; the other was just sitting stupefied in the snow, his head bowed over his own useless, frozen hands. Yellow Fingers was quite chirpy; joking at the coincidence of our meeting at the summit like this. Dougal asked why his hands were exposed, and received a confident, flip reply. We told him that he had frostbite, and that he would probably lose his fingers, and maybe his entire hand. 'What do you mean, frostbite?' asked Yellow Fingers. We patiently explained, got his gloves and other clothes out of his sac, and did what we could to make them warmer...we heard later that the two lads had to face extensive amputation of fingers, toes, hands and feet, despite the finest treatment available at Anchorage Hospital." -- Doug Scott, Mountain 52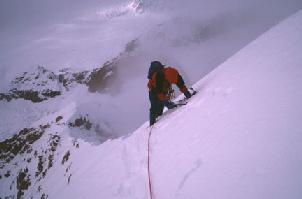 "Hurricane-force winds, familiar to Mount McKinley's arctic latitude, slowed to a rough gale during the night, then quit toward morning. After five days of living in fear of flying off the Cassin Ridge in our two-man tent, Jeff Duenwald and I prepared to retreat 5,000 feet down the ridge to the Northeast Fork of the Kahiltna Glacier. Summit ambitions for 1981 had been blown away in the storm and now simply surviving was clearly the driving force. We had underestimated the length and severity of Alaskan storms and now our rations were a box of macaroni and half a quart of fuel. Our alpine-style ascent with one 9mm rope and ten pitons had proceeded smoothly, but a safe descent from 17,500 feet with this same gear was cutting it thin. These were minor problems, though, compared with the cerebral edema that had snuck up on me during the storm. I was completely blind every other minute. Not once in ten major Himalayan expeditions had I experienced altitude disease, but Mount McKinley is deceiving. With a short approach and low base altitude, Jeff and I had climbed too high too quickly to acclimatize properly. We didn't panic, nor did we consider being rescued by the National Park Service. As Himalayan veterans, Duenwald and I climbed with a singular attitude: that responsibility begins and ends with the climber. We began our descent. I rappelled and set anchors while able to see and waited patiently while blind. As we lost altitude, my periods of blindness shortened, enabling us to move even faster. By nightfall we were at 14,000 feet and by early the next day had dropped to the Kahiltna Glacier. I was no longer experiencing periods of blindness, just hunger and embarrassment. My only regret was that we had not taken Mount McKinley as seriously as it's higher, but warmer cousins in Asia." -- John Roskelly (1993)





Page vreated 12/1/99 and last updated 12/1/99