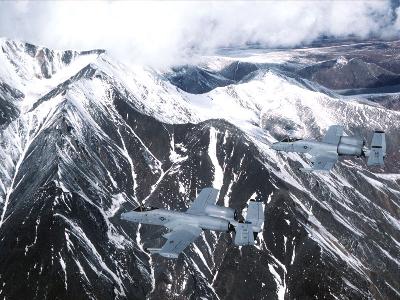 Current Population: 2,647 (2010 U.S. Census Population)
Incorporation Type: Unincorporated
Eielson Air Force Base, is thenorthernmost U.S. fighter wing in the world. The 354th Fighter Wing's A/OA-10 Thunderbolt II and F-16 Viper aircraft provide our nation with combat ready forces capable of reaching anywhere in the Northern Hemisphere at a moment's notice. Eielson is also home to Cope Thunder, the largest aerial exercise in the Pacific region, held four times a year. Eielson AFB has about 2,735 military people assigned and about 4,746 family members accompany them.
The base is located 28 miles south of Fairbanks and operates ten miles of track connecting with the Alaska Railroad. This branch line serves both Fort WainWright and Eielson Air Force Base. Typical loads carried are coal for the base power plant, petroleum products, and miscellaneous equipment and materials. Rail weight is 70 and 115 pounds, and the enginehouse is located at Building 3383. Operations are normally conducted on Monday through Friday. Click here for a railroad yard map of EAFB.
Locomotives: