Franklin Haylander Dewey IV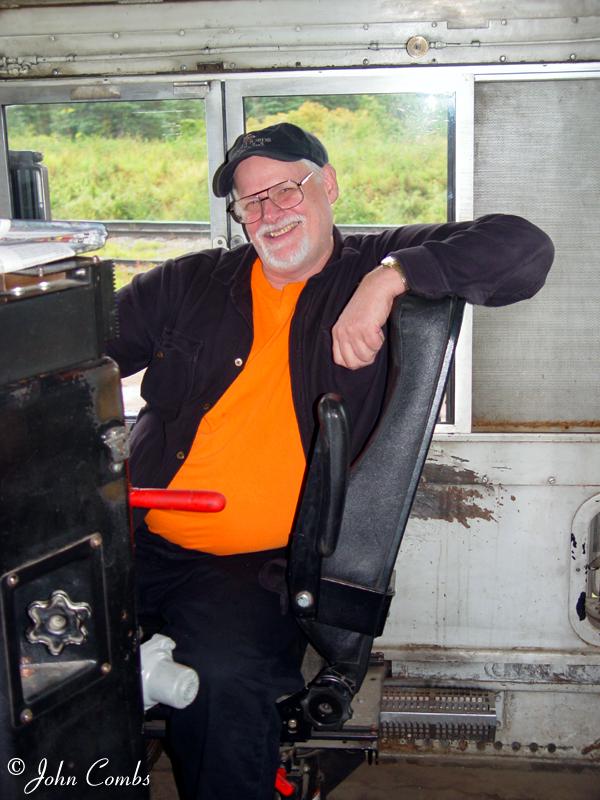 Frank's interest in railroading started as a model railroader and railfan.
He began his rail career in the 1973 1974 US Army at Ft. Eustis, VA. 1st Rail Detachment (Provisional). The provision was that this was the last active army rail unit.
Upon discharge he hired out as a switchman with the Los Angeles Junction Railway. It was 8 miles from one end to the other, 80 miles of track and 300 industries, and as Frank says, "a lot of fun, but little money." He hired on with the Alaska Railroad in January 1975 and worked there until January 3, 2007.
Although Frank excelled in a lot of areas, his specialty was loading gravel trains where he earned the nickname "Silky." Frank was also given the task of helping to test the EMD SD70s which the railroad was considering buying. Frank had the most hours on test units EMDX 7002 & 7004.
Frank retired from the railroad in 2007 due to health reasons and relocated in Palestine, Texas a mere 200 yards from the BNSF.
In regards to my website, Frank came onboard not long after it started in 1997. We spent dozens and dozens of hours on the phone or swapping emails. He provided me with keen insight into transportation service as well as the operations of the railroad.
Frank made numerous contributions to this website including the stories Moose and the Alaska Railroad, Gravel Trains and The Tug Captain. Frank always promised he would write the true story behind the 1976 gun fight at the Healy Hotel, but never got around to it.
Without a doubt, my best memories of Frank are from the numerous trips I took to Alaska. He would literally knock himself out to see I received the proper Alaska Railroad education. My first day with Frank was a tour of the Anchorage yard as well as the general office building, followed by burgers, onion rings and fantastic blackberry shakes while listening to a local Blue Grass band at the Arctic Roadrunner. The day ended with spur of the moment rides on an SD70MAC and MP15 #1554 via other engineers. I will remember that day as long as I live because it was pure magic for a newbie like me.
Other trips were equally as magical. We hopped aboard a hy-rail running an inspection tour at the Loop District. We found old railroad ties and snow shed remnants and Frank found an original snowshed spike which he gave to me. I still have that spike. We took his Range Rover to Anchorage Sand & Gravel's pit in Palmer for an extremely detailed view of its operations. Another year Frank was the locomotive engineer on a work train where we dropped concrete ties for a future continuous welded rail installation effort. I spent the day with that crew and they treated me like one of their own.
Furthermore, Frank did other fun things with me as well. I will never forget going out to that little park between the Lake Hood/Lake Spenard complex watching the float planes land and take off. As a confirmed lifelong chocoholic I reveled in our trip to Alaska Wild Berry, home of the "largest chocolate fountain in the world." We went on numerous geocaching jaunts and at one point Frank literally gave me the shirt off his back to help protect me from the voracious mosquitoes. This was Frank's nature. He was always giving me gifts such as his train service hat or a double matted Jarrett Holderbee painting of a passenger/freight mix headed up by F7 #1502. One of the most interesting gifts he gave me was a DVD of his favorite Sci-Fi comedy, The Fifth Element. I've watched this movie several times and still don't get it.
I asked Frank what his most unforgettable moment was during his ARR service. "Oh there were so many!" He finally decided on a 1986 trip where he was the engineer on a 99 stand trailer train headed by GP49s out of Seward. He remembered Ron Miller was the conductor, but couldn't recall the fireman. As he reached the 3% grade at MP49 he got the air set on this 1.25 mile long behemoth. All the sudden Ron called, "Slack!" and all the air was released on the train. Frank now how to deal with a runaway train. He used all his skills to keep the train on the track. He passed the section house going 25-30 mph. He went deeper into the air line and said it took a while for the brakes to reset. He finally got the train stopped at tunnel #1. When I asked the cause of the air loss Frank said the articulated hoses on the articulated cars were not the right ones. Furthermore, they were cracked and let the air escape. I commented that if the train had gone on the ground an investigation would have found the cause and he would have been held blameless. Frank disagreed. He said at that time management would fire you regardless. Frank liked this story so much because it showed if you kept your cool and used your skills wisely you could turn things around from the brink of disaster.
Frank was one of the biggest winds beneath my wings for my Alaska Rails website. However, he was so much more than that. He was an incredible friend who also taught me the true meaning of the word hospitality. I am definitely a better man for having known him.

MRS1 No. 1605 with locomotive engineer Frank Dewey at Port of Anchorage. Winter 1980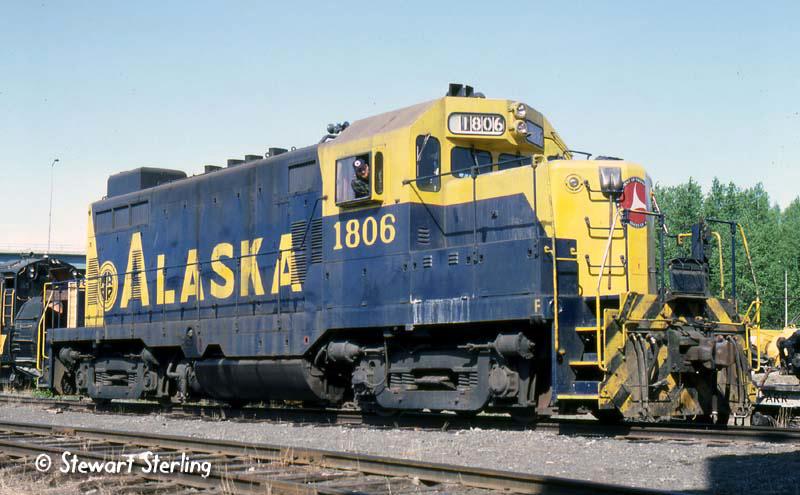 A young Frank Dewey, ARR locomotive engineer, sticks his head out of #1806. 5/23/81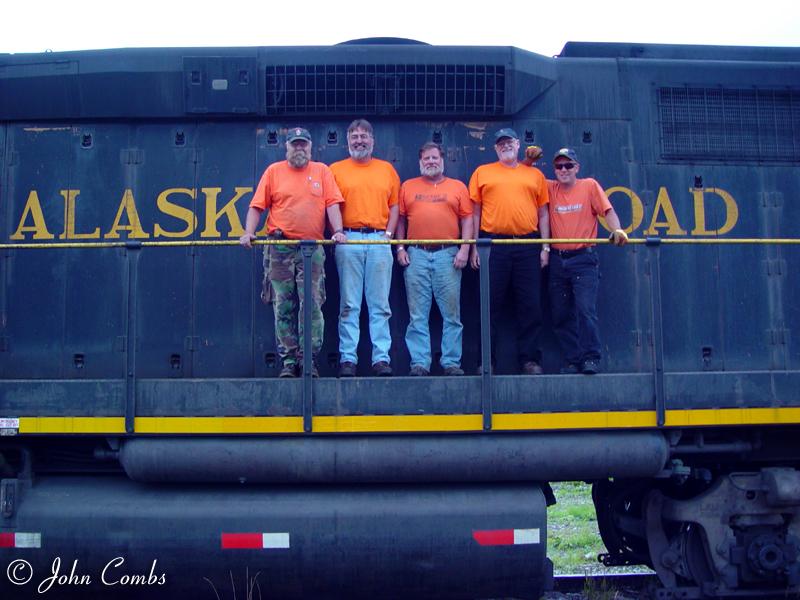 L to R: conductor Ricky Singsaas, heavy equipment operator Derek Winchester, engineering supervisor Rich Holzapfel,
locomotive engineer Frank Dewey and brakeman Duane Frank after a day of delivering concrete ties. I guess they all got
the memo as each is wearing an orange shirt. As they headed to a siding that evening Frank powered the locomotive he was in
so the crew could have a quiet ride back in their locomotive. "That was just the kind of guy Frank was," the crew said. 8/23/05
---
I was on active duty serving in the US Army and I was assigned to Fort Richardson Alaska in late 1978. Upon arriving in Alaska and getting my family settled in, I started to pursue my new hobby of model railroading. After a few weeks of winter survival basic training I headed down to Muldoon Road in Anchorage to check out a local hobby shop. I do not remember the name of the shop, but after several trips there I met another fellow model railroader by the name of Frank Dewey. We soon became friends and soon Frank invited me over to his apartment to see his model railroad collection. I remember him giving me an old 40 foot HO scale boxcar lettered for the Buffalo Creek and Gauley railroad during that visit and to this day, I still have that boxcar. As our friendship, grew, Frank would invite me down to the yard in Anchorage and ride with him on the switcher job or hang out at the engine house if Frank was working the hostler job. I remember that in the 1979, 1980 time frame, Frank would like to be home after his shift so he would work the yard switcher or hostler jobs.
During the week I had to play Army but of Friday nights when we got off duty, I would go home and take a nap and then head down to the yard to meet Frank when he started his night shift. The first time that I rode with Frank, it was a Friday night and he worked the 11:00 PM switch job in Anchorage. They had to run out to Anchorage International Airport with loads of jet fuel and our locomotive was GP-8 no. 1804. Not only was it my first ever cab ride but the crew put me in the engineer's seat and Frank was teaching me how to run the train! We had a little scare on the way to the airport since an impatient driver in a red Corvette decided to run the crossing. One night while riding the switcher with Frank, we had the MRS-1 no. 1612 for an engine and coming up the middle of Anchorage yard, the crew has me in the seat again and as I was crawling along in the first or second notch, the conductor yells out, "Open this baby up! We need to get to the yard office!" So I opened the throttle to the 8th notch and that ALCO prime mover came to life!
Frank was working as the night hostler one night at the engine house and he had a lazy assistant who spent more time in the office resting his eyes rather than helping Frank. That night Frank had to setup a 3 unit lash-up for the regular northbound mixed train no. 6 and 2 unit set for a northbound passenger extra to Talkeetna. Frank showed me the basics on how to M-U (multiple units) the locomotives and set the air brake controls and after following his guidance, I hooked up the 3051 and the 3015 in for the Talkeetna extra and afterward, he checked my work and everything was correct. Frank was a great instructor!
There were many more visits to the yard and times spent with Frank. He even set up a tour of the Anchorage Diesel House for our model railroad club who included myself, John Peters, Stewart "Buddy" Sterling, Jimmy Sterling, Steve Adams, to name a few. Frank made of lot of friends!!
Because of these trips to the yard on Friday nights with Frank on the overnight shift, I learned a lot about prototype railroading. The crews on Friday night would have me at the north end of the yard relaying hand signals with a lantern to Frank while switching cars. I started in the hobby of "railfanning" while in Alaska and began to photograph the locomotives, cars, and started chasing the trains. All of this because of Frank.
After I left Alaska in September of 1981, I lost contact with Frank for a few years and after he retired and moved to Texas, we made contact again. What a great surprise when he called me out of the blue! In 1987 I chose a career with a Railroad in the Northeast as a Train Dispatcher and I am now in my 30th year looking at retirement in November. As I look back at my time spent with Frank Dewey, I reflect on the knowledge that I learned from him and use that knowledge today in my profession.
Franklin H. Dewey IV, my friend, my mentor. RIP
Gary D. Munsey Sr.
Pan Am Railways Train Dispatcher
North Billerica MA.