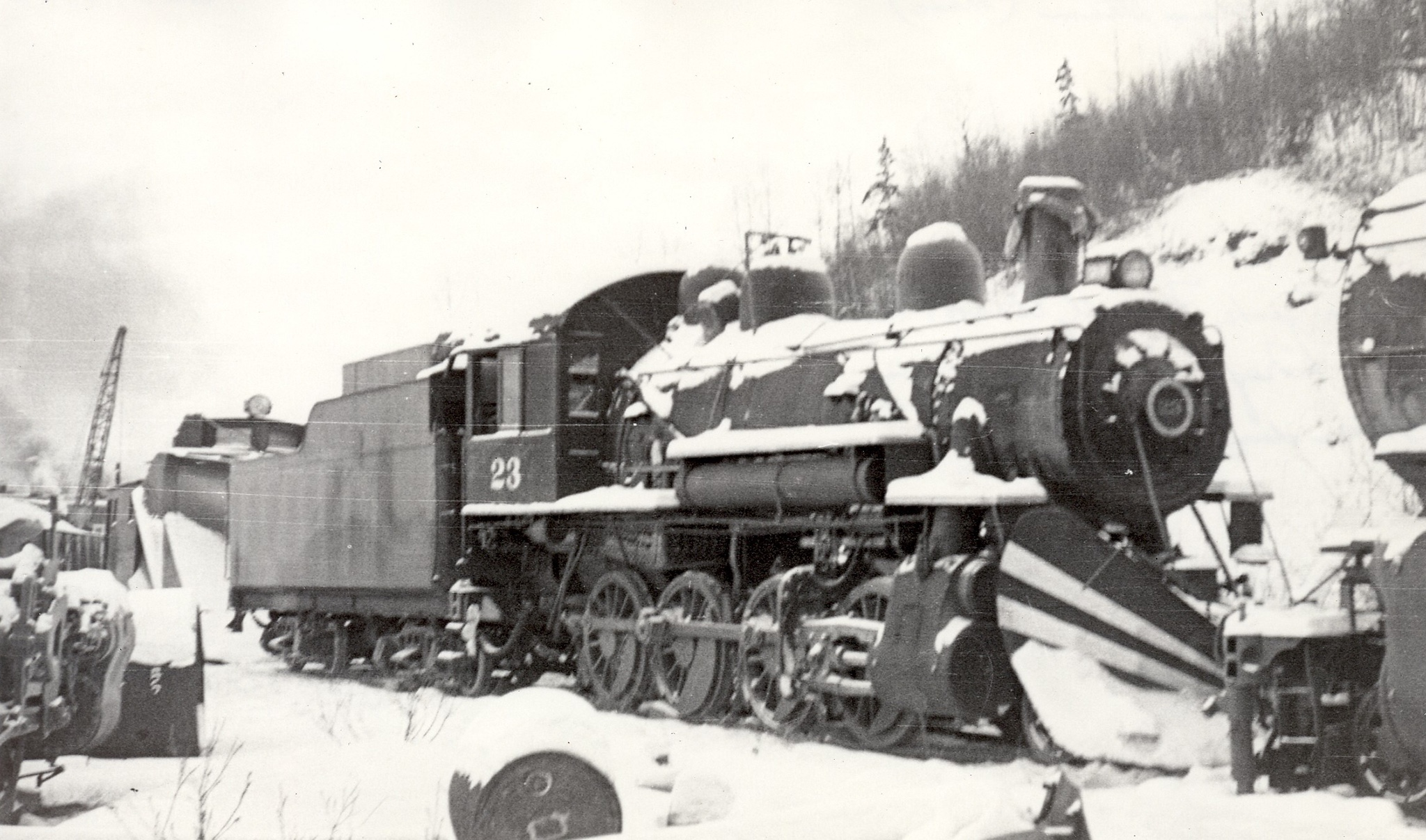 Pat Durand commentary: "Here is some more information, but it comes from Howard Clifford's book and is not the most reliable source. 'No. 101 2-8-0 Alco Rhode Island builders #44600 built 11/1907 Ex Copper River Northwestern #23 To the Alaska Railroad in 1940. Sold for scrap to Bethleham Steel Co. Seattle, 1947.' I have never seen a photo of a No. 101 and never seen a roster with 101 or and employee time card with 101 on it. If it was used, it was rarely."
Don Marenzi commentary: "The info in Cliffords book is in error. As far as I know the real story on #23 is:
"It was left unsold at Cordova after CR&NW abandoned, and was used by the Army during WWII between Cordova's dock and the airfield being built at mile 13. After the war Kennicott (CRNW's owner) 'gave' the remaining equipment in Cordova to the Army.
"CR&NW #23 was transferred to Seward, and used on the Alaska Railroad as a switcher at Seward for a brief time right after WWII. It was kept at Seward because it was an oil burner. I have 'heard' the story that it was used at Seward because the oil companies that had their tankfarm/transfer docks at Seward were worried about the fire danger from coal burners (which all other Alaska Railroad steam at that time was). Hmmmm, I'm not sure I totally believe that. The engine was operated as #23 at Seward, it was never renumbered #101. I can not verify if real ownership ever went to the Alaska Railroad, or if it stayed owned by the Army. (The army had a dock at Seward too). Apparently #23 soon needed some repairs, and wasn't deemed worth fixing."
"The story about #23 becoming #101, and other CRNW steam going to the Alaska Railroad, was first printed in the old MooseGooser newsletter. Barrett and Henderson claimed that info was 'Bill Thomasson's fantasies' for what that's worth."
Jerry Peters provided us with the engineering drawing for #23.