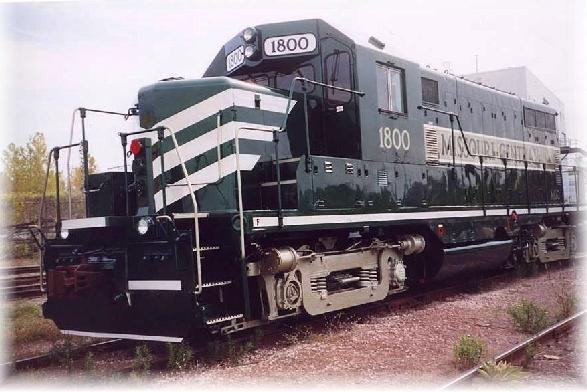 MOC GP9 #1800 (Ex-Alaska RR #1809)
At Kansas City, MO, 10-1999. Photo courtesy of David Scofield
Missouri Central's first locomotive, GP9 #1800 is ready to run. This ex-Alaska RR unit was refurbished and repainted into the attractive MOC paint scheme by Midwest Locomotive in Kansas City. The locomotive is temporarily being stored until crews can clear the line to Union of overhead tree limbs, which would surely destroy the new paint job. Union Pacific had failed to keep the line up to FRA standards during the last few years, and allowed lineside trees to grow out of control to the point that MOC crews, on their first run to Union, were unable to open their cab windows!
Information courtesy of Missouri Central Railfan