F7-A #1508
Photos courtesy of Don Janes
February 2,1996
Here are three old snapshots taken at Palmer MA, Feb.2,1996. Not very good quality as they
were taken with an old instamatic film camera but at least they're on film. Hope they help.
---
These ARR 1508 shots were taken in March of 1997. I remember the day it was drizzly and cold. But it helped to bring out the colors.
Here are two more shots taken the same day some time in Dec 96. Here it is pulling the now dead and gone Ware River Line which was operated by Mass Central on the weekends as a tourist scenic run up and down their 26 mile railroad. Finding them in the Palmer yard which is about 1.5 miles outside their yard was a treat. These shots show one of the last times that the 1508 pulled passenger cars in Massachusetts. At most I think it was used in this way about three more times down here.
And here are two more shots.
Number 1508 on the Massachusetts Central
Photos courtesy of Ronald P. Ciejka
March 1997
---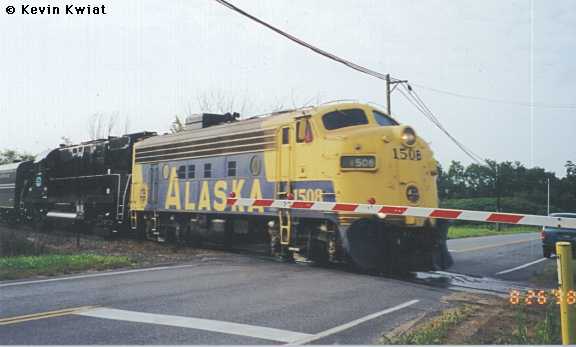 Hey, number 1508 is alive and well on the Adirondack Scenic Railroad in Utica, New York! Kevin Kwiat's picture shows it is still displaying its colors as of 8/26/98.
The most recent issue of the Adirondack Railway Preservation Society says, "Locomotive 1508 joined the Adirondack Scenic Railroad in August of 1998 for service between Utica and Thendara. It was built by EMD in December 1953 for the Alaska Railroad. In the 1980's they sold it and eventually it made its way to Palmer, Massachusetts where it spent the last few years switching freight cars at the Palmer International Facility on the Massachusetts Central Railroad. Locomotive 1508 produces 1750 horse power with a 16 cylinder engine. It is a two stroke cycle engine with a bore and stroke of 8 1/2 inches X 10 inches, compression ratio, 16 to 1 with a max. speed of 800 RPMs. This locomotive is representative of early first generation diesel-electric locomotives that replaced steam power in the 1940s and 1950s. Commonly called F units or covered wagons, most were traded in or scrapped by the 1980s. Locomotive 1508 is a survivor that brings back an earlier time in American railroading. It is owned by TC Rail LLC and leased to ADCX."
Photo courtesy of Kevin Kwiat

---
| | |
| --- | --- |
| | |
---
[12/15/01] Bill Kaufman at MITEL adds, "For some news on our other power, we are repainting the ex-Alaska 1508 and ex-TP&W 1500 this winter. All I will say is they will appear in the spring with matching paint schemes. The 1508 is also in the process of receiving a 26NL brake upgrade. To keep the unit as historic as possible, we are leaving the EMD "can type" controller in place and just replacing the brake valves. (The 1500 was already upgraded by the TP&W. It received an EMD pre-Dash 2 style AAR control stand in the process.)"
---
A few shots of ex Alaska unit 1508 at Old Forge,NY on the Adirondack RR Sept.30,2008.
Photos courtesy of Don Janes
---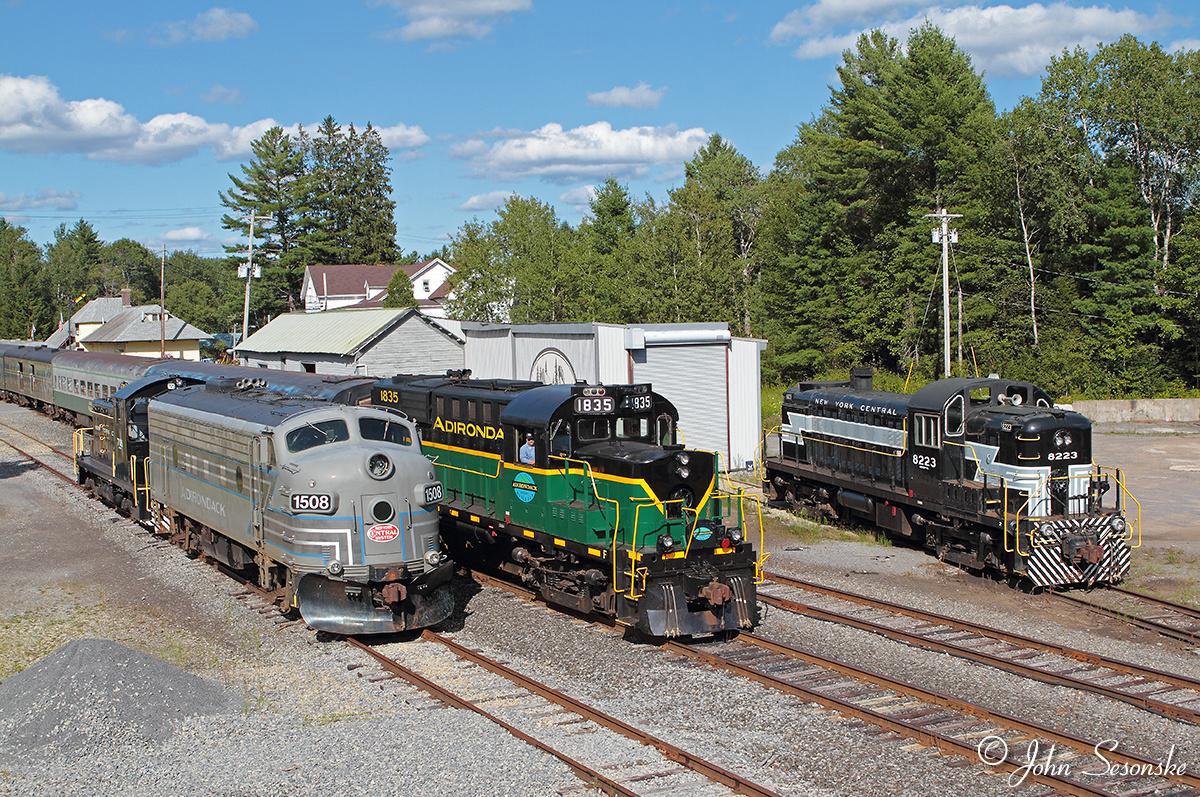 The SB train for Utica, lead by an ex Canadian Pacific RS-18 rebuild, rolls between some classic engines as it departs Thendara. An authentic NYC RS-3, #8223 is on the right and a NYC themed ex Alaska F7 is on the left along with a NYC painted SW-1. This trackage is ex New York Central. Thendara, New York, August 10, 2013
---
Some pictures I took when we were working on the 1508, which is now on the Adirondack Scenic RR, since repainted. Not sure they're in order here. They had to hire a mobile crane as our overhead crane in the backshop could not lift high enough to clear an F unit carbody. We used it to remove engines on GP9s and RS11s, but the lift on those was lower with the hoods off. The engine had already been set into the carbody by someone else, but had the wrong flywheel to mate with the main generator, so it had to come out again to install the right flywheel. The generator was realigned and we got it running again before it left. 1/6/87