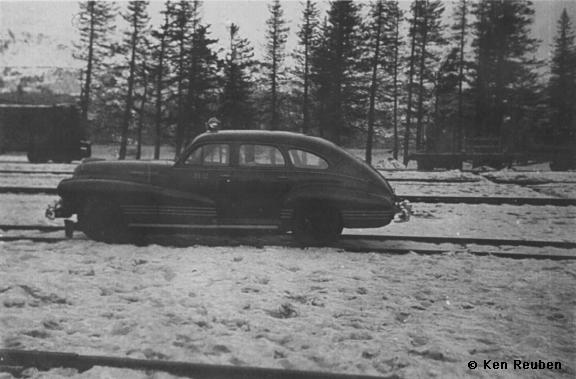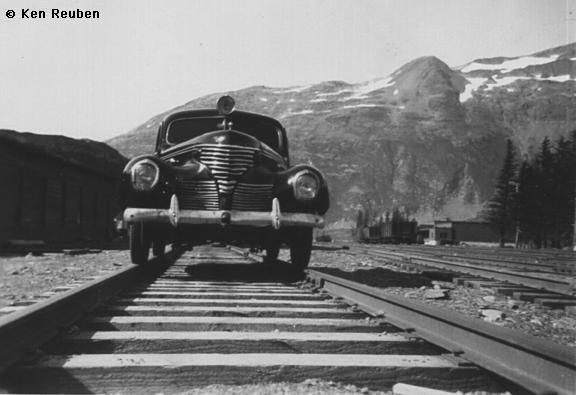 Photos courtesy of Ken Reuben
Of the photos, Ken says, "Two pictures of a sedans fitted as a hi-rail vehicle. If you know any car buffs, perhaps they can identify it." The top car was for use of the General Manager. When it was given a trial run, it performed badly and had to be rebuilt. (Whittier, Alaska, 1944-45)
Richard Wise's has identified the cars: "I can confirm the lower picture is a 1939 DeSoto. The 1938 models had the torpedo style headlights mounted above the fenders. The 1940 models had a radical new bodystyle. So, they only made this style for one year, 1939.

"I'll revise my estimate on the upper picture to a 1941 or 1942 Pontiac. I had not previously seen the 1941-42 with the chrome stripes on the side. Pontiac production ceased in 1942 and resumed in 1945. Of course, they simply continued the product lines from before the war. Therefore, 1945 and 1946 models were essentially the same as the 1941-42 models."
On 2/3/10 Pat Durand adds, "These should probably now be labeled Pontiac Rail Car B1 and B2. In black they would be before 1948 and in blue and yellow after. They are technically not Hi-Rail because they have fixed flanged wheels and cannot go on the road."
.
.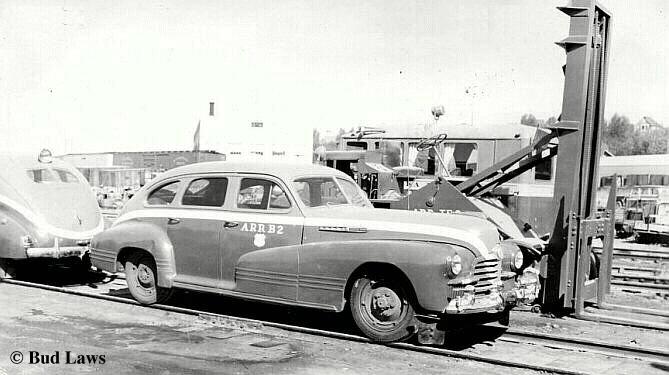 Photo courtesy of Bud Laws
Also see John Parys's photo of B-2 in Whittier during WWII.