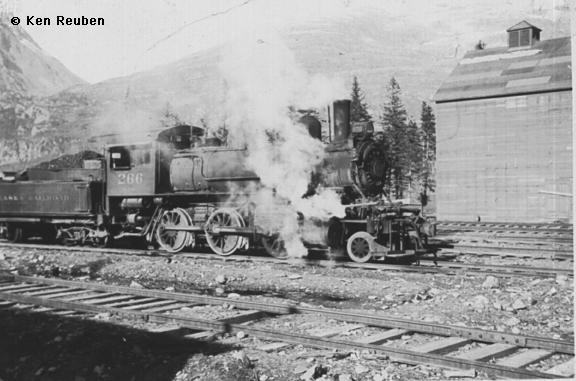 Pictured above is ARR 2-6-0 Mogul #266. Originally built as Isthmian Canal Commission # 266 (the I.C.C. were the builders of the Panama Canal) Alco/Cooke builders# 39177 in 1906. Built as 5 foot gauge. Transferred to the ARR in 1915/16. Converted to standard gauge. Re-assembly was completed in Anchorage in April 1917. From AEC reports it appears the 266 was used mostly in work train service and occasionaly in mixed train service during the ARR construction era. Retired in January 1946. (Whittier, Alaska, 1944-45)

Photo courtesy of Ken Reuben

Historical information courtesy of Don Marenzi
See also John Parys's photo of #266 in Whittier dring WWII.