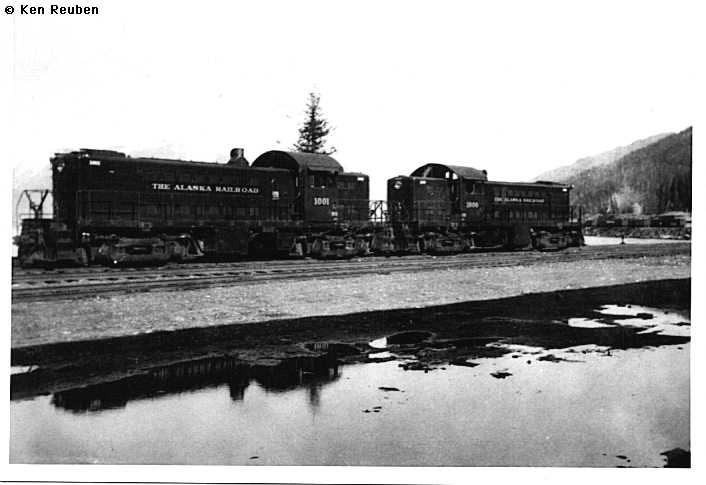 Pictured above is ARR RS-1 numbers 1001 and 1000. Photographer Ken Reuben writes, "I rode the ARR in April 1945 from Whittier to Anchorage. We were on a three day pass and due back on a Saturday. There was no train to Whittier on Saturdays, but a special was coming down with girls for a dance. Unfortunately, F.D.R. died the day before and the dance was cancelled. So we were AWOL, didn't get back till Monday." Whittier, Alaska, 1944-45
John Henderson adds, "The 1000 and 1001 were delivered in "Pullman green with dulux gold lettering." This matched the "passenger train paint scheme" of the passenger trains which intentionally matched the paint scheme specified by the U. S. Post Office for the Railroad Post Office cars operated by The Alaska Railroad and many other railroads.
"Shortly after WWII the 1000 and 1001 and some of the former Army RS-1's were painted in blue and yellow. The blue was a "powder blue" rather than a darker blue. These were the same colors the F units were painted.
"Other of the RS-1's remained in the Army black with yellow lettering throughout their career on The Alaska Railroad.
"It was about 1964 when the 1000 was chop nosed and repainted in to the black with yellow lettering scheme. I believe this was the last serviceable RS-1 in the blue and yellow paint scheme although others remained stored and out of service for several more years.
"Note: For you model railroaders that want to 'imagine' what might have been, ALCO 'suggested' to The Alaska Railroad that the 1000 and 1001 be painted 'red and black' in the same scheme as the original RS-1's built for the Rock Island before WWII. A builder's photo of the Rock Island units was included with the letter from ALCO suggesting this paint scheme. This paint scheme was rejected by The Alaska Railroad in favor of the 'Pullman green with dulux gold lettering.'"
Photo courtesy of Ken Reuben