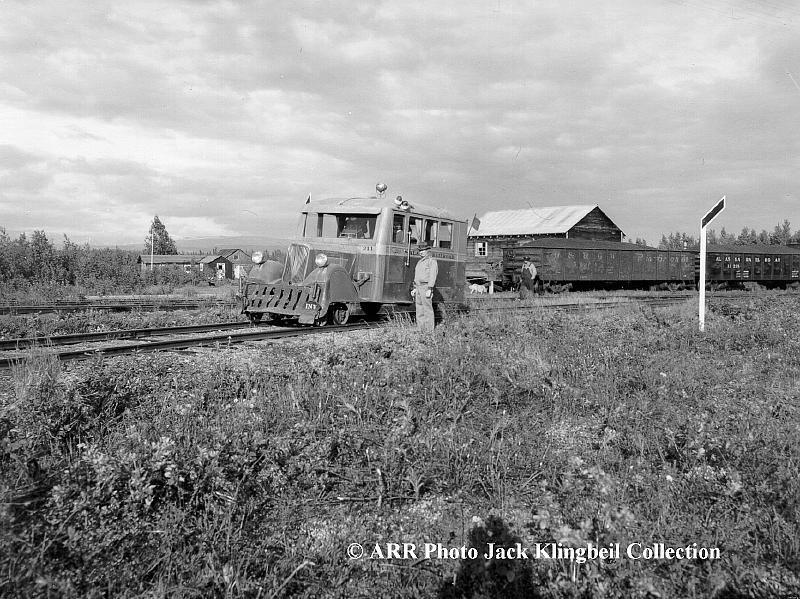 Alaska Railroad photo, Jack Klingbeil collection
Spring 1948
.

This old Kalamazo rail bus no. 211 was known as the "galloping goose," the "gray goose," or the "gray ghost." The unit was originally no. 111, but was renumbered after a repaint of ARR colors of Prussian blue and signal yellow.

With the hundreds of servicemen from the 714th Railway Operating Battalion spread out over the entire railroad, it became necessary to furnish them with an adequate Post Exchange (PX) service. The 714th obtained a motor-coach and trailer from the railroad and instituted a traveling PX. "If the boys in the sticks couldn't get to the post to visit the PX, we brought the PX to them." The Medical Officer and Dental Officer, as well as the Chaplain always accompanied the PX train. A complete assortment of the PX necessities such as toilet articles, cigarettes, candy, magazines and cases of G.I. beer were carried as well as the Doctor's supply of basic drugs. Plenty of religious material for all faiths was also available. It also occasionally served as an ambulance, taking sick G.I.s to the hospital.


The winter time made travel difficult with the motor-coach, especially over the mountains, and there was constant doubt as to whether the rubber tires would hold out. Blow-outs were common and just as dangerous as they were often. Further, the tires were unobtainable as they were a particular type that carried one hundred pounds of pressure.

Finally, the 714th decided to enlarge the PX train and go to steam (usually locomotive 618). The enlarged facilities made an occasional trip over the line available to many of the Anchorage-based personnel who never seemed to go anywhere.

.
.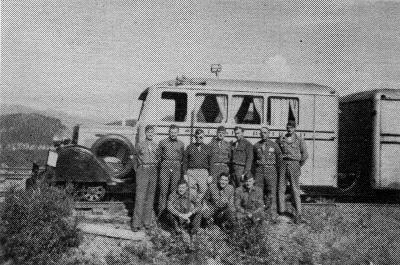 The 714th's first trip on the "galloping goose"
.
.