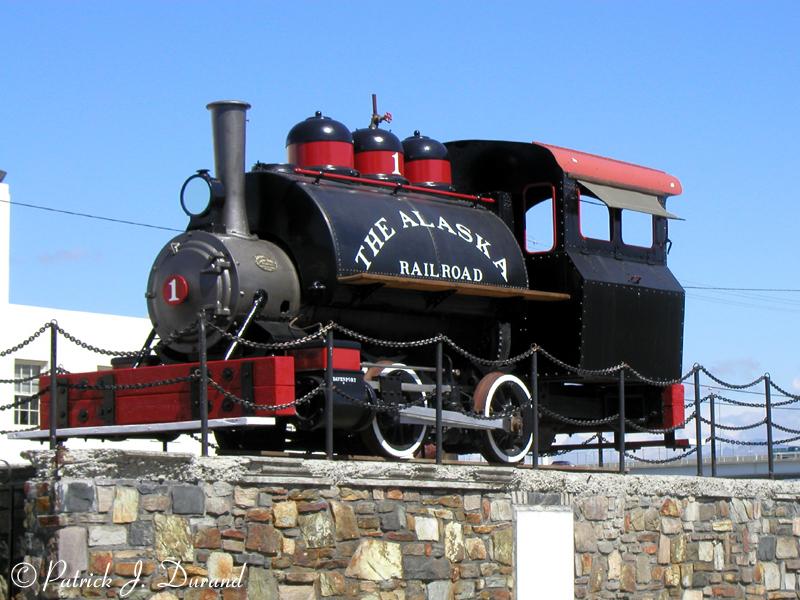 Photo courtesy of Patrick J. Durand, 7/4/05
Historian Pat Durand says, "Builders #764 by Davenport Locomotive Works October 1907 for the Isthmus Canal Commission where it operated as No. 802. Acquired by the Alaska Engineering Commission as #6 in 1917. This locomotive was 3 foot gauge and was converted to standard gauge and used as a shop switcher in Anchorage. During 1947 she was renumbered No. 1 for use by the Anchorage Kiwanis Club Moose Gooser train on 4th and 5th Avenue during the Fur Rendezvous for two years. Later she was placed on display facing East in front of the Depot. In the 1990, Bob Yost lead a group to a full restoration, short of a new boiler, and she went back on the display facing West."
June 29, 2005 Update
Prepared by Patrick J. Durand
Press information on Alaska Railroad #1Davenport Locomotive Co. builders #763 was out shopped in October 1907 as a 3 foot gauge 0-4-0T. Delivered new to the Panama Canal Commission she worked there as No. 802.
The Alaska Engineering Commission received surplus locomotives and equipment from Panama in 1917. On arrival she was rostered as No. 6 and worked the narrow gauge construction sites during the building of the Alaska Railroad.
In 1930 she received new standard gauge wheels and became a "Yard Goat" in Anchorage moving larger steam locomotives and cars around the servicing facilities. With arrival of diesels she was placed in retirement storage.
When the new streamliner service AuRoRa was inaugurated in October 1947, No. 6 was refurbished and came out of the shops as honorary #1. She operated next to the new diesel locomotive No. 1050 during the ceremony at the Anchorage Depot.
The Anchorage Kiwanis Club sponsored a Fur Rendezvous attraction in 1948 in conjunction with the Alaska Railroad. Track was laid down Fifth Ave. from C Street to L Street. Honorary No. 1 operated back and forth on 5th Ave. giving free rides to all school age children.
A new monument dedicating the Completion of The Alaska Railroad Rehabilitation Program was unveiled at Anchorage on November 17 , 1952. Davenport Locomotive #763 was unveiled as ARR #1, on a new pedestal in front of the Alaska Railroad Depot. She still occupies this position of honor.
---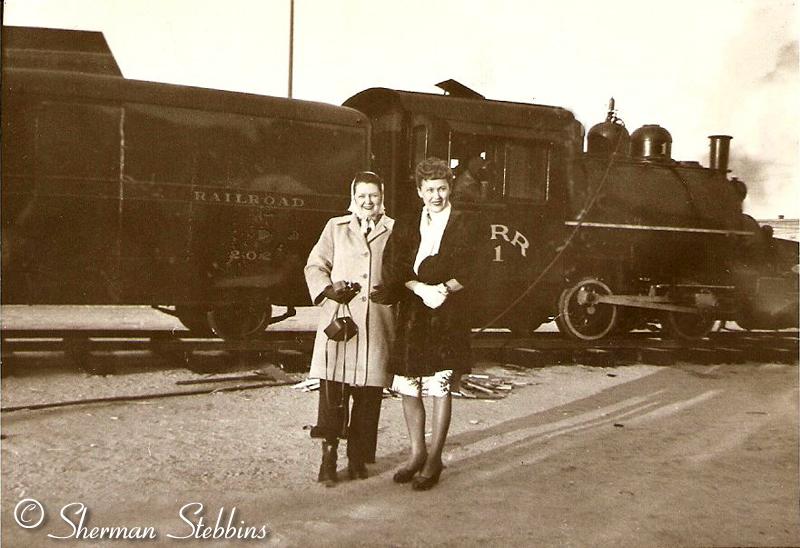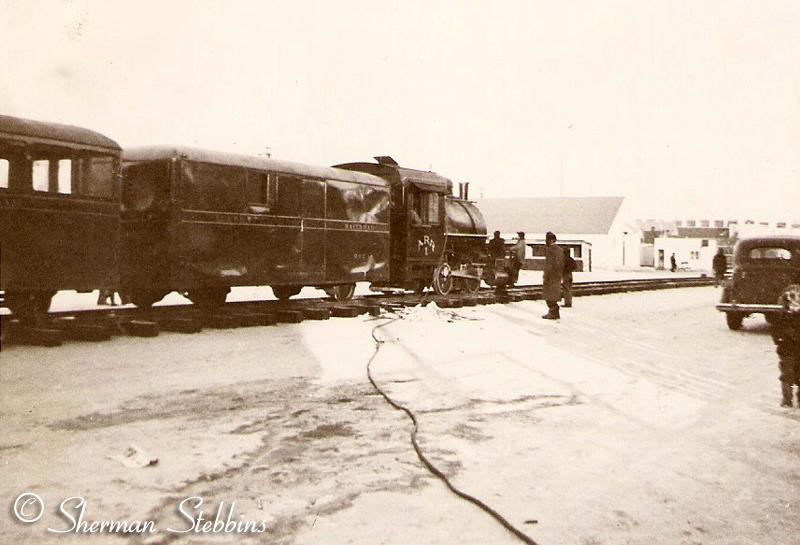 The above is the Alaska Railroad Anchorage Chamber of Commerce train in the February 1949 Fur Rondevous on 5th Avenue in Anchorage, Alaska. The train had been put together for the dedication of the AURORA Passenger Service in October of 1948 at the Anchorage Depot with the refurbished Davenport #6 aka #1 and gave rides on Alaska Day in front of the Depot. It was such a success that they laid temporary track down 5th Avenue for the Rondy Celebration in February and put the little train to work. Every school kid in Anchorage got a free ride and the regular fare was .10 for kids. Number 202 and the other "coach" were never on any roster. They were just put together from old Canteen Cars or speeders that had been used behind hy rail equipment during WWII. - Patrick Durand