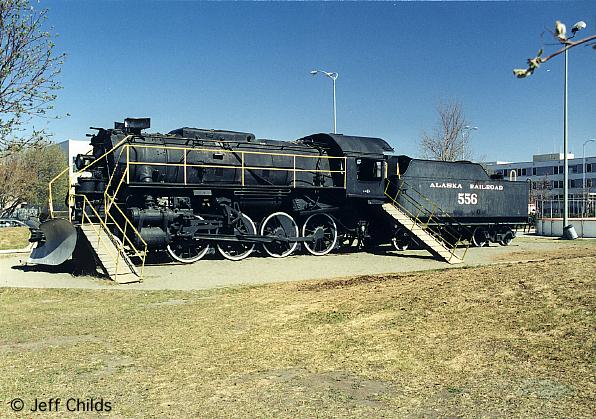 Photo courtesy of Jeff Childs
June 1999
Built from 1942 through 1945 by the Baldwin Locomotive Works, American Locomotive Company, and Lima Locomotive Works, War Department 2-8-0 Consolidation type locomotives were manufactured in the United States for war service in England, Europe and Asia. With 2,120 produced they outnumbered all other designs of locomotives built in the U.S. They were austere in design, simple to maintain, and compactly built to operate within the clearance required for the narrow bridges and tunnels and closely spaced loading platforms in Europe. The Alaska Railroad had initially attempted to obtain additional 4-8-2 Mountain type locomotives. When they were quoted a 12-month lead time, they turned to obtaining War Department locomotives which were available almost "off the shelf." Four (551 through 554) were received initially with two more (555 and 556 received soon thereafter. Number 557 was received about one year later and was the last new steam locomotive purchased by the Alaska Railroad. Five more were acquired after the war as war surplus. These included 560, 561, and 562, which had operated on the military training railroad at Ft. Claiborne, Louisiana. All twelve locomotives saw service over the 460 miles of the Alaska Railroad.
Dick Morris added on 7/24/15: When installing the replica buffer on 556 today I remembered to check the back of the frame for the serial number. It's 280 19S 517. 557's is 280 19S 809.