SLUGS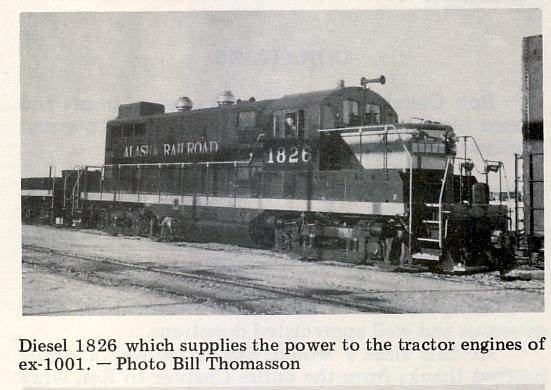 Slugs on the rail? The craze of adding tractive effort for switching at yard speeds with what commonly were called SLUGS made it to Alaska in 1972. Bill Thommasson photographed the slugs in the Anchorage yard and reported his findings in the February and September, 1972 issues of THE MOOSE GOOSER.
"Alaska Railroad Diesel 1001 has been converted to a slug unit and is now undertaking trials. Dubbed the "cement slab" the entire upper body, engines, etc., has been removed to the main frame and a cement slab has been poured on the entire length 16" high and covered. As of this time no number has been assigned to the unit. It is presently operating with engine No. 1826." Three photos accompanied the story and showed No. 1826 coupled to the slug which obtained the name, MATE 1.
"The Alaska Railroad is already planning on a third slug unit with ex-1001 put into service early in the year, and the second, ex 1027 now undergoing tests. The third slug will be made from engine No. 1014." Two photos show MATE 2 built from ex 1027 coupled to No. 1838.
The third slug never emerged to become MATE 3 as No. 1014 went straight to scrap in late 1972. The other two marriages did not last much longer. MATE 2 went to scrap and MATE 1, one of the two original RS1 locos on the Alaska Railroad ended up as rip rap in Whittier Creek some time in the 1970's.
After divorce from their MATEs, GP7L units No. 1826 and No. 1838 went on to overhaul at ICG/Paducah in 1976 for rebirth as GP7u locomotives No. 1803 and No. 1801.
Modelers note. It would be a shame to sacrifice a nice Atlas mechanism to model these slugs. Be on the outlook for old Hobby Town plastic kits to obtain the decks and trucks. The deck is just a slab 16" thick and the width of the original car body, with the exposed sand boxes on the ends. Brake wheel stand was moved to the end of the slug. A full set of handrails will be the big challenge. No mention is made about the traction motor blowers, and I see no evidence of intakes for these above the deck.
Prepared by Pat Durand based on articles in The Moose Gooser, news letter of the Alaska Yukon Chapter of the National Railway Historical Society.
Also see Mate 2
Here is a color photo of Mate 1.
Click here for modeling information.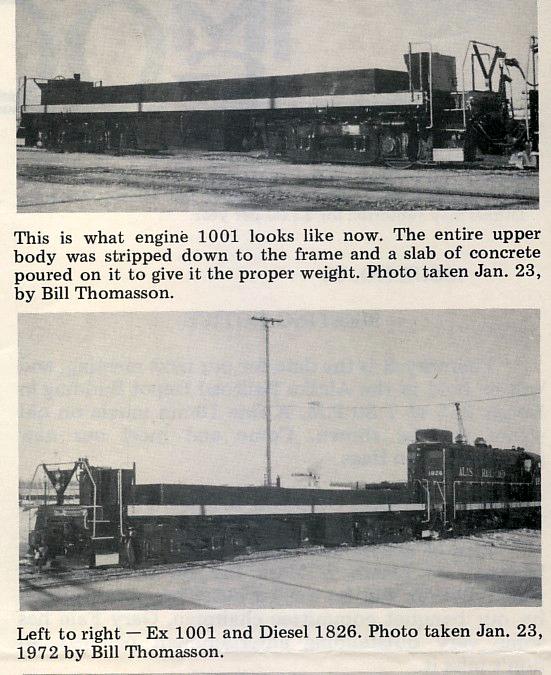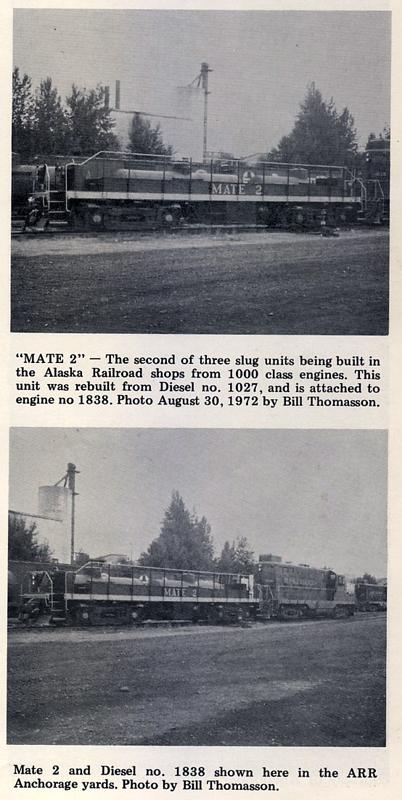 Page created 12/1/04 and last updated 11/7/17
© 2004-2017 Pat Durand unless othewise noted