Colonel Frederick Mears
Extracted from "Get Mears" by Kit Crittenden
Colonel Frederick Mears
Colonel Frederick Mears was born on 25 May 1878 at the Omaha Barracks Hospital, Nebraska. He spent virtually all of his formative years immersed in Army life as his father spent 31 years in the military. At 15 years old, Mears enrolled at Shattuck Military Academy, Faribault, Minnesota; the same institution his father had attended. Upon graduating from Shattuck in 1897, Mears wanted to continue his father's tradition by becoming a cavalry officer in the US Army.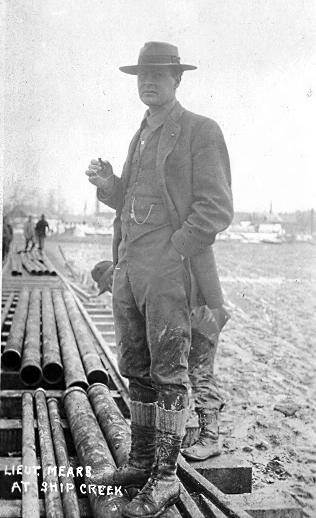 In the autumn of 1898, Mears enlisted in the Regular Army as a private. He was assigned to Company K of the Third Infantry, known as the Old Guard. On 30 January 1900, he left New York for Manila. He participated in the Philippine Insurrection and his superiors recognized his civil engineer abilities and decided he would be a great asset as an officer and promoted him to second lieutenant. Following this, he was stationed at San Isidro and given topographic and construction responsibilities. He would remain in the Philippines until 1903, but not before completing additional engineering assignments at the army officers school, located at Luzon.
Mears took advanced engineering courses at the US Infantry and Cavalry School, located at Fort Leavenworth, Kansas. He was assigned to the Fifth Cavalry. During his final years at Fort Leavenworth, Mears was appointed as an aide-de-camp to Major General Franklin Bell, commandant of the service schools at Staff College.
In May 1906, Mears left for Panama to work on the Panama Canal and relocation of the Panama Railroad. Early in March 1907, Mears received a promotion to first lieutenant. On 6 April 1907, Mears married Jennie "Jane" Wainwright at Fort Clark, Texas. He and his wife went back to Panama following the wedding to continue working on the Panama projects Mears had been working. In 1913 he was appointed General Superintendant of the Panama Railroad and Steam Ship Company. Under his charge in additon to the railroad were 6 large ocean liners traveling between New York City and Panama. As a 1st Lt of the Calvary he commanded a larger fleet than most admirals of his day.
President Roosevelt appointed Mears to the Alaska Engineering Commission in April 1914. As a Cavalry officer and not an officer of the Corps of Engineers it took a special joint resolution of Congress to confirm this assignment and ensure his special $10,000 per year compensation as a Commision Member.
While in Alaska he was promoted to the rank of Captain in the Fall of 1916 in his 18th year of service. He was soon promoted again In November 1917, when Mears received a promotion to major from the War Department.
On 25 January 1918, Mears was commissioned colonel in the national army. He served as commanding officer of the 31st Railway Engineers under Brigadier General W.W. Atterbury, director general of the American military lines in France. Colonel Mears and his regiment arrived in France and set up camp near the Loire River. Mears' unit installed hundreds of miles of railroad track and reassembled a large number of locomotives and machinery. They also constructed 3.6 million square feet of covered storage and about 6 million square feet of open storage.
During an inspection tour of the divisions within the Transportation Corps, Mears was in the general's open motor car and sustained a blow to his head when a shell detonated near his moving vehicle. Fortunately, only his metal helmet was grazed in the incident. General Atterbury advanced Col Mears to General Manager of American Army Transportation Corps in France, a force which by then numberd some 50,000 troops. He continued in this position until May 1919. Before leaving France, Mears received the Grand Cross of the French Legion of honor, personally conferred upon him by Marèchal Henri Pètain, commander in chief of the French Army. General Pershing personally presented Mears with the United States Army Distiguihed Service Medal.
Colonel Mears received orders back to Alaska to complete the railroad. He was named Commision Chairman and Chief Engineer of the Alaska Engineering Commission, responsible for building the Alaska Railroad. He reported to the Commander, Western Department that about 1,900 railroad construction workers were on strike and that leaders of the Industrial Workers of the World were attempting to organize a general strike. Colonel Mears asked that Army troops be sent to Anchorage to provide security for railroad facilities. Anchorage at the time was an unincorporated town of 4,000 people without a police department and there were only two or three U.S. Marshals in the area to maintain law and order.
The Alaska Railroad was built at a cost of $56 million over an eight year period, closing out in the summer of 1923. Colonel Mears resigned from the Army on 7 July 1923, just one week before the driving of the golden spike in Alaska. He and his family left Anchorage in 1923 for Seattle. He and his wife Jane had four children.
In civilian life Frederick Mears continued his association with the the Great Northern Railroad. His crowning achievment as an engineer and project manager was the Great Northern Railroad Cascade Tunnel under Stevens Pass in Washington State. The 7.9 mile long tunnel was completed in 36 months and the dedication on January 12, 1929 , was a nation wide radio media event.
Colonel Mears died on 11 January 1939 at the age of 60; he suffered from bouts of pneumonia dating back to his last days in Alaska..
The US Army honored Frederick Mears' service in Alaska by dedicating one of its posts in his memory during WWII. Fort Mears was built on Dutch Harbor in the Aleutian Islands during the summer of 1941. At its peak, the number of troops stationed at Fort Mears reached 10,000 people. Many of the buildings at Fort Mears were damaged or destroyed during the Japanese bombing of Dutch Harbor in June 1942.
A second lasting tribute to Colonel Mears can be found at the site of the Tanana River Bridge on the Alaska Railroad which when built under the management of Col Mears was the longest single span bridge in North America at 702 ft. The bridge is known as the Frederick Mears Memorial Bridge.
Mrs. Frederick Mears, in 1916 organized the Anchorage Womens Club specifically to raise funds for a new school in Anchorage. For this and other civic leadership, Jane Mears Middle School was named in her honor.
© 2006 Kit Crittenden