MIDNIGHT-SUN Limited Excursion to Fairbanks
.NOTE This is not the 1924 TEXAS LIMITED FRANK REEDY charter from Dallas Texas with 200 Texas tourist that also went to Fairbanks. See PRINCE pages 543 and 544
These are numbered from left to Right starting on the top row.
1. Train consist was made up in sections at the West end of the shops
2. Ex Panama Mogul #614 was receiving a hand wipe by the crew on one of the roundhouse leads behind the power plant. (see the stack extending up out of the steam cloud to confirm location".
3 The Alaska Railroad on the facia board indicates this is after 1923 and the transfer from the AEC
4. Train either Northbound out of town, notice the exhaust or it is being backed over the the Station Platform and the wind is blowing hard.
Consist is baggage, three coaches and combine.
5. Nice detail on the forward section of the Observation/ Business car. Too bad we cannot read the number. Good guess this is the Denali currently on display in Fairbanks. That is based on the paired arched windows, lav window and the round top vestibule door. This is commonly referred to as the "Harding Car".
6. Great view of the heart of Anchorage on the Anchorage Depot Platform. That is where every body said hello and good by. Depot is to the left and freight house beyond about where the Historic Anchorage Depot is today. Great study in costumes.
7. 614 setting behind the brick power plant on one of the round house leads. The brick building was erected after the original frame power house burned in 1921. See Prince page 478-9
8 and 9 Dignitaries? 614 setting beside the car shops. Note she was fitted with some sort of cinder catcher.
10, 11 and 12 More views of the Denali in front of the car barn/shops.
- Patrick Durand
Click on a thumbnail view a larger image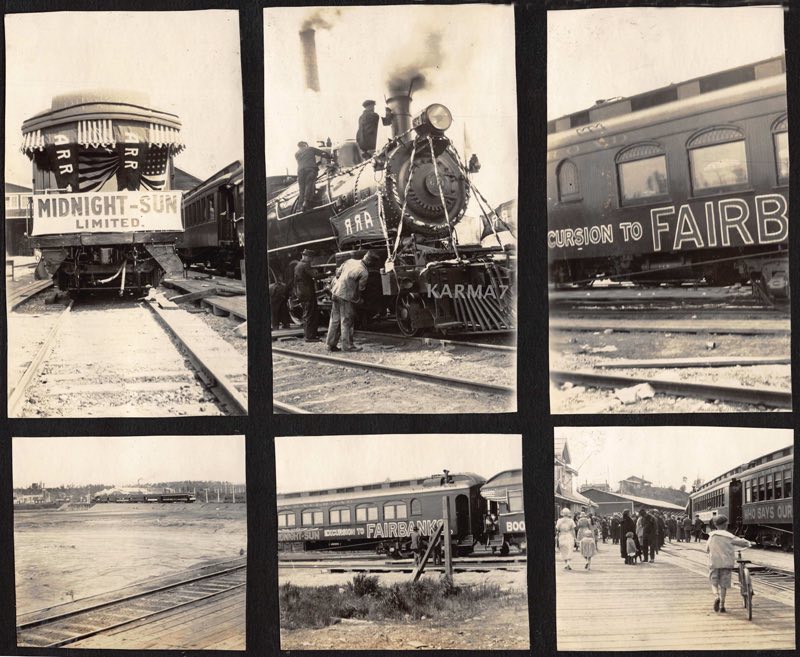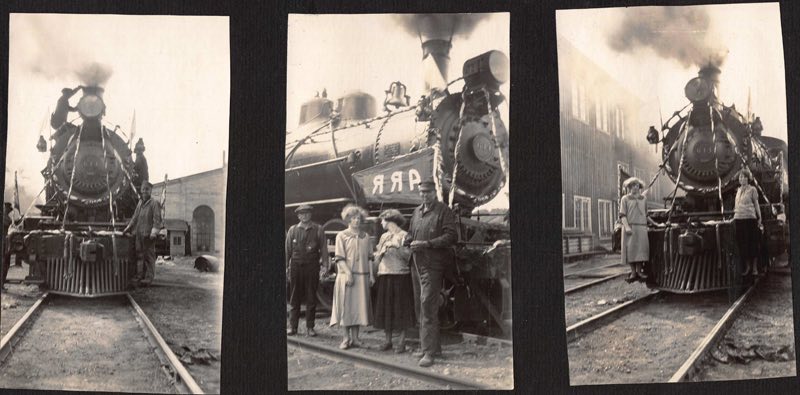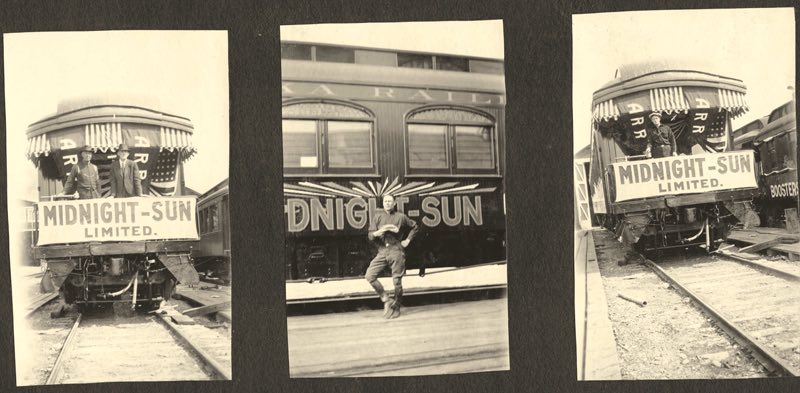 Page created 9/14/16 and last updated 9/14/16