What began as a spur-of-the-moment question, grew into a successful commercial complex that caters to tourists as well as railfans.

The Harbor Train Station began its life as a boat storage yard owned and was operated by Tanya Sandefur. During a visit to the Alaska Railroad Real Estate Department to secure a lease, Tanya spontaneously asked if there were any rail cars for sale. As luck would have it, there were four troop cars out for public auction to closed bids.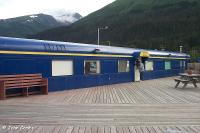 These rail cars were built in 1945 and used to transport troops during World War II. After the war ended, these cars were surplused to the Department of Transportation who in turn transferred a number of them to the Alaska Railroad. They were then put into service to transport and house men and materials as part of track and right-of-way maintenance. Over time, many of these troop cars were placed out of service and languished on storage tracks. It was later discovered the fire extinguishers inside these particular four rail cars were last certified in 1979 thus indicating the cars had sat unused for about 15 years.
Looking over these passenger cars, Tanya determined that the two vintage 52 foot Pullman cars would fit easily into her boat storage yard. Tanya submitted a bid for these two rail cars and just for the heck of it, bid $1,000 each for the other two 82 foot sleeper cars.
Tanya's was one of only three bids. As luck would have it, Tanya had the highest bid and became the proud owner of four gray World War II rail cars for just over $10,000. Now Tanya would have to determine how to wedge in four troop cars where only two were intended. The best solution was to lay out the cars into the shape of a square and install a wooden deck in the middle.
Tanya and her husband Ron rolled up their shirt sleeves in September of 1995 and went to work. Utilities were installed underground and three of the concrete foundations were poured. Adding to the historical flavor, original 1904 rails were acquired and installed. These rails were originally part of the Alaska Railroad where the Alaska Sea Life Center now stands.
In March of 1996, the cars were gutted in preparation for meeting city building codes. Showers, toilets, bunk beds, heaters, fuel tanks, carpentry cabinets and doors were removed and piled nearby. In preparation of the forklifts moving the cars to their new location, the undercarriages were removed and added to the scrap pile. As local residents viewed the ever growing mountains of debris, they nicknamed the business the "Train Wreck."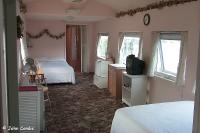 Amazingly, it only took three months for Tanya and her crew to remodel the trains, haul away the scrap and build the huge deck that serves as a court yard. One of the 82 foot troop sleepers was slated to become "Whistle Stop Lodging." Tanya soon found businesses to lease the other three cars.
Car 37, a 52 foot Pullman Mud car, houses the Seward Bike Shop. Owner Ron Schurman rents, sells and repairs bicycles from mid-April until mid-September. This troop sleeper still uses the original oil burner stove for heating and original bathroom.
Car 20, a 52 foot Pullman Kitchen car, serves as a deli. Owner JoAnn serves up sandwiches, ice cream, coffe and Alaska Railroad souvenirs. The original box refrigerator and cast iron stove are still in use.
One of the 82 foot American Founder sleeper is home to QuarterDeck Charters. Toni operates the office and nandles baggage storage for Alaska Railroad cruise ships customers. Greg operates the fishing charter boat.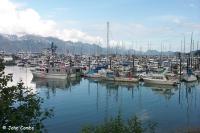 Car 51, an 82 foot troop sleeper was transformed into the Whistle Stop Lodging. In May of 1999, Tanya converted this car into two rooms that face south with the fantastic views of the Seward Small Boat Harbor, snow capped Mount Marathon and Resurrection Bay. Each room has a private bath, refrigerator, instant hot water coffee maker, TV/VCR with videos, clock radio and heater One of the rooms has a kitchenette while the other has handicap accomodations. [Webmaster's note: I stayed in one of the rooms in July of 2002 and thought it was awesome! The room was great and the view truly spectacular! I give it five stars.]
For more information, contact Debra, P.O. Box 1515 - 411 Port Avenue, Seward, AK 99664, (907) 224-2323. You can also obtain information via the Internet or via email.
Page created 9/27/02 and last updated 3/21/12