John: - You might be interested to know that Portland, Oregon's Tri-Met (Tri-County Metropolitan Transportation District of Oregon) transit system acquired Alaska Railroad's RDCs 702 and 711. The cars will be used as backup for the Colorado Railcar-built DMU's of Tri-Met's 14-mile WES commuter rail line which operates over tracks of the Portland & Western RR between Wilsonville and Beaverton. The WES schedule requires that all four DMU cars used in the service are needed in service each day. If one of the DMU's were out of service, it was necessary to substitute buses, resulting in unhappy riders who were late for work. With Colorado Railcar out of business, it was not possible to acquire a spare car, so TriMet purchased the pair of used RDC-2's.
These RDC's have had a hard life. After 24 years as an Alaskan life line, they are pretty well worn out, and currently out of service. TriMet is faced with the task of bringing them back to life at their Wilsonville shop.
Although Tri-Met claims WES ridership is only about half of expectations, I found that the trains were well filled. As with many transit agencies, TriMet is dealing with budget problems, and threatening cuts in the WES service, which could result in an extra available DMU, and no need for the Budds.
Two photos are enclosed taken from the Wilsonville station which is across the tracks from the WES shops. ARR 702 is outside the shop door, with 711 in the yard.
-- Tom Smith, 4/14/10
---
Tri-Met WES finally tested those RDC's. Ex-Alaska 711 and 702 now Tri-Met 1711 and 1702 are seen departing the Beaverton Transit Center headed back to Wilsonville. 12/18/10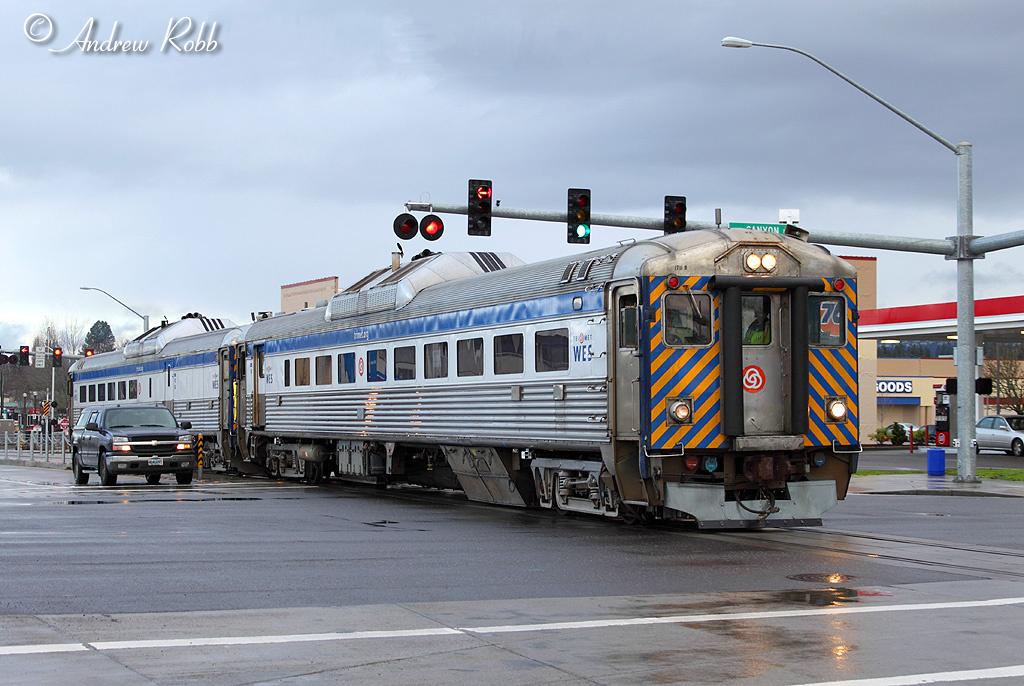 ---
Tri-Met WES 1711 and 1702 (ex-Alaska 711 and 702) in Tigard, Oregon, 6/23/17.