GP49s at TRANSAP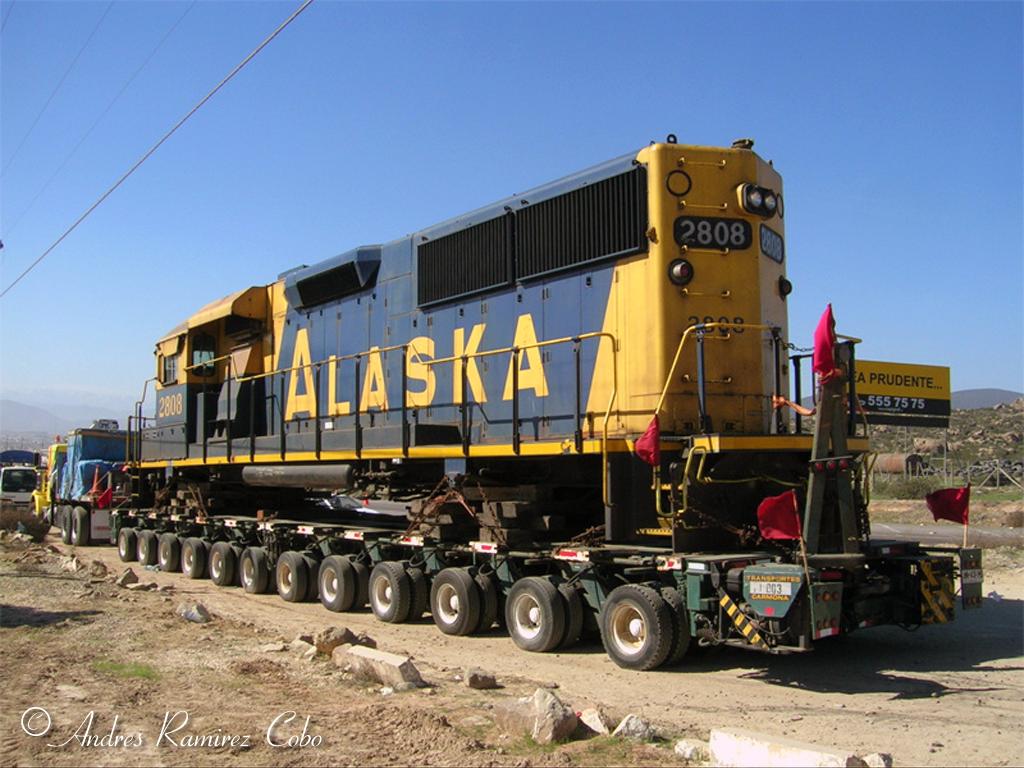 GP49 #2808 being moved to TRANSAP in Coquimbo, Chile. July 15, 2008
Photo courtesy of Andres Ramirez Cobo
---
Submitted by Allen Miller on 9/4/10
Here's the scoop on the Alaskas down here. There are four, two 5'6" gauge in the south and two meter gauge in the north. Here's some info and if you need more, please let me know. Also photos attached of three of them, the fourth still being rebuilt.

The wide gauge is Transap and meter is Ferronor, both under the Pirazolli transportation network. The lines are government owned the Pirazolli is the contract operator.

ARR 2801 (now TR #D2802) and 2804 (now TR #D2801) operate for Transap on the wide gauge southern network. They run from the port at Talcahuano south to Mininco. This is the center of the logging/cellulose industries here. Units are C-C due to light rail. They were rebuilt by Transap in Chile. Trucks came from Atchison Castings in Kansas.

ARR 2805 and 2808 (same numbers on Ferronor) are on meter gauge Ferronor, about 400 miles north of Santiago. Only 2805 is in service, 2808 still undergoing rebuilding (after 2 1/2 years!) at FN Coquimbo Shops. Trucks came from a Canadian source. Again C-C due to light rail. Each is/will be paired with a road slug with operating cab and are used hauling iron ore concentrate from the Los Colorados Mine to the port at Huasco.

I think I covered everything. Now for photos attached:

1. FN 2805, taken 8/27/10 at Maranon siding, near Vallenar, Chile. NOTE: I will have better photos of this one when I get to the US in a couple of weeks and get my slides developed....this was a digital grab shot.

2. TR 2801 at Laja, Chile 2/27/08

3. TR 2802 at Coigue, Chile 2/27/08 both front and rear views

4. TR 2802 at Laja, Chile, 2/8/10...with an extra yellow stripe on the side
---
Submitted by Roberto Pirazzoli on 12/8/11
In the attached file you will find some picture of the 2808 Ex GP-49 today SD-49 CU M. That means was modified with 6 traction motors and meter gauge track. I hope you will enjoy. Next I will send pictures of the 2805. That was modified too on SD-49 CU M and look like the 2808. Also, if you want I can get some pictures of 2802 and 2803 they belong to TRANSAP a sister company of FERRONOR.

Regards,
Roberto Pirazzoli
Director
FERRONOR S.A.
www.ferronor.cl
[Webmaster note: Many, many thanks to Roberto Pirazzoli for providing this for use on my website!]
---
Submitted by Guido Beck on 4/13/13
Ferronor use this locos with another loc in slug setup.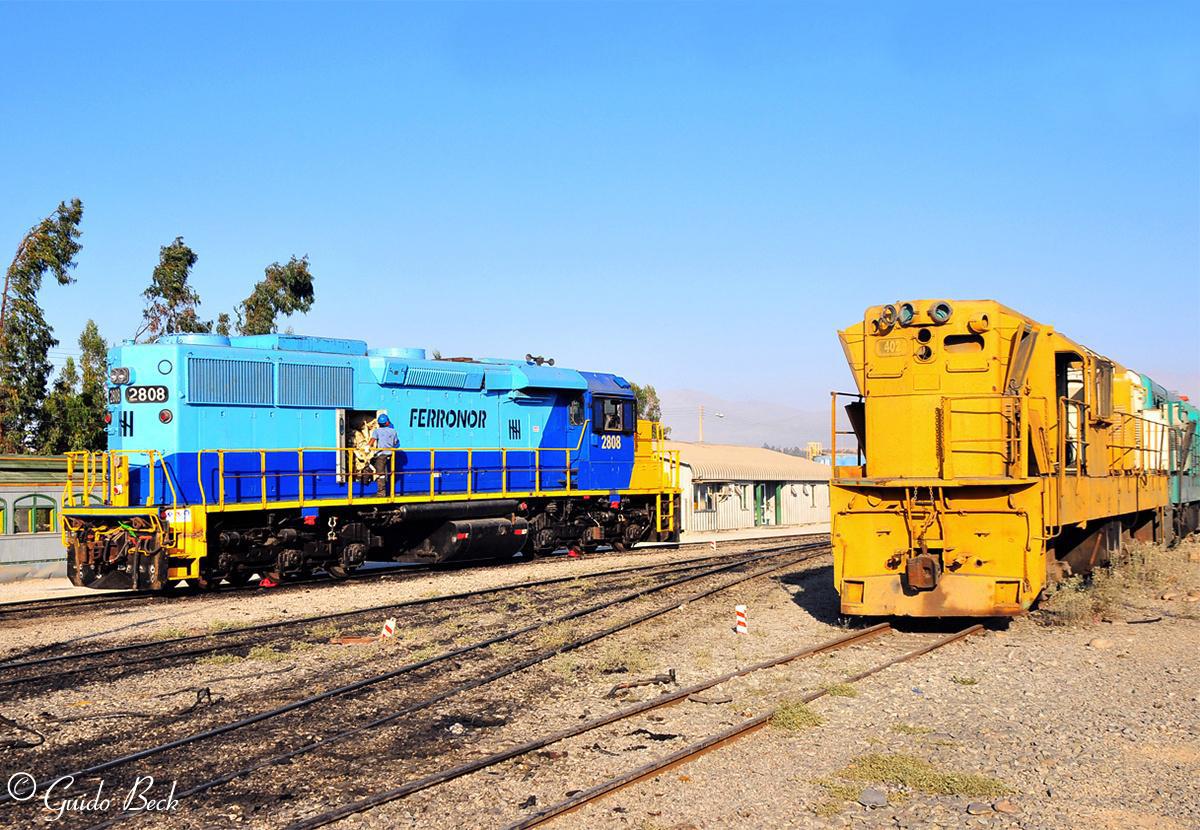 Final adjustments to the #2808, an ex GP49 Alaska Railroad converted to SD49 before entry into service. On one side the next GR12 to be repaired, as Interestingly Ferronor not changed the original numbering of the locomotive keeping the same he used in his country of origin. Photo taked with Ferronor permission inside Llanos del Soto shop's. Vallenar, Chile, January 14, 2011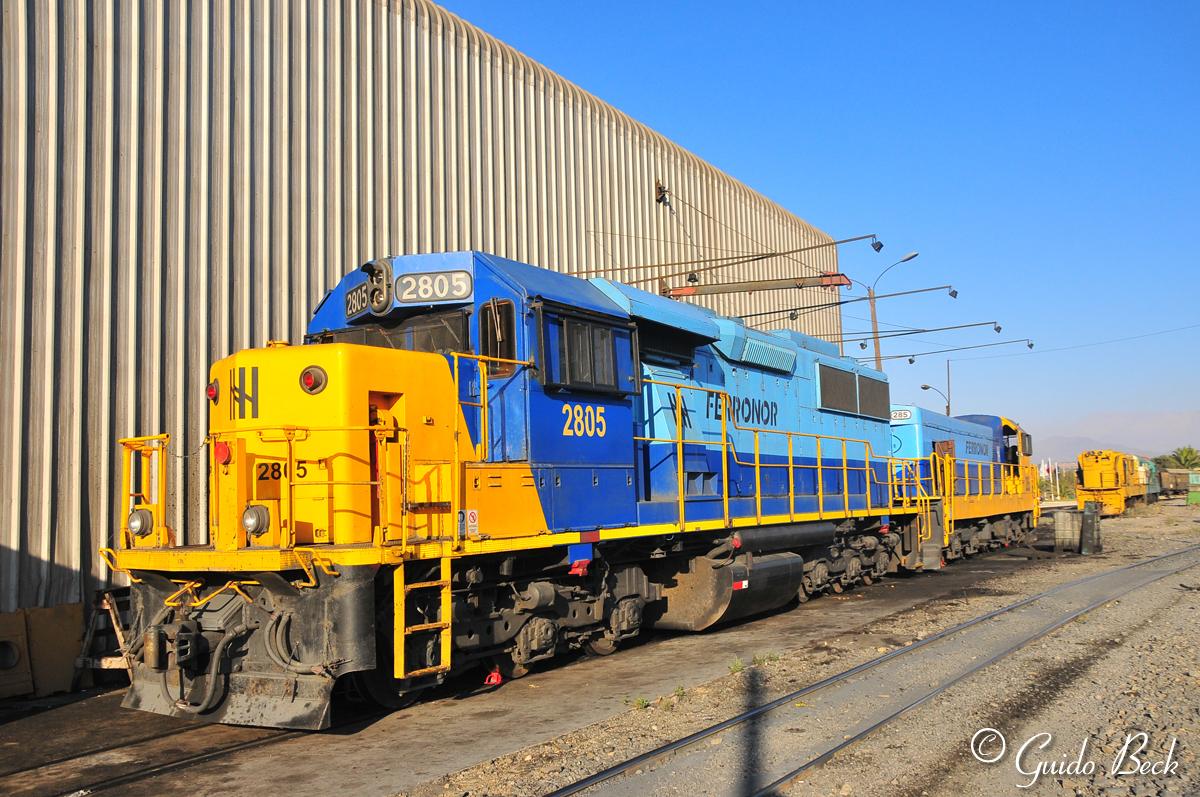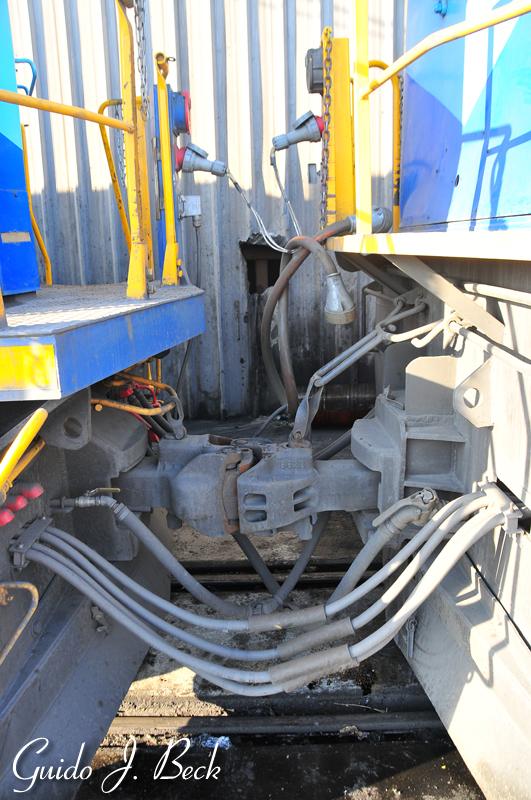 ---
Submitted by Mauricio Concha Vega on 8/27/13
| | |
| --- | --- |
| | |
| FERRONOR train loaded with iron, goes through a true oasis in the midst of the desert of the third region of Chile, which is the valley around the Huasco river. With EMD GP49 locomotives that belonged to Alaska Railroad, but with bogies of 3 axles, plus be modified to work in Chile, remaining as "SD49". Huasco, Chile 11/5/11 | Train loaded with iron, goes through a true oasis in the midst of the desert of the third region of Chile, which is the valley around the Huasco river. Huasco, Chile 11/5/11 |
| | |
| EMD GP49 locomotives that belonged to Alaska Railroad, already discharged into the seaport of Valparaiso, and in preparation for transport to Maestranza of FERRONOR in Coquimbo. These locomotives were purchased to work with iron trains, between the iron mine "Los Colorados" in the sector of Empalme Norte located north of Vallenar, and the seaport of Huasco. My sincere thanks to my friend and railfan Alejandro Ulloa ("Deutz Humslet"). Valparaiso, Chile 5/27/08 | |
---
Submitted by Diego F. Batista on 9/17/13
| | |
| --- | --- |
| | |
| SD-49 ex Alaska Railroad working in Chile for Transap Railway Co. The daily wood paste train is running between Lirquen and Talcahuano port. In the image it is waiting for a green light at Laja yard. 8/18/13 | Running near Concepción station, (Bio Bio region, Chile) with 40 empty wagons. 8/15/13 |
---
And two youtube videos of the delivery:
Also see Wikipedia's entry for EMD GP49