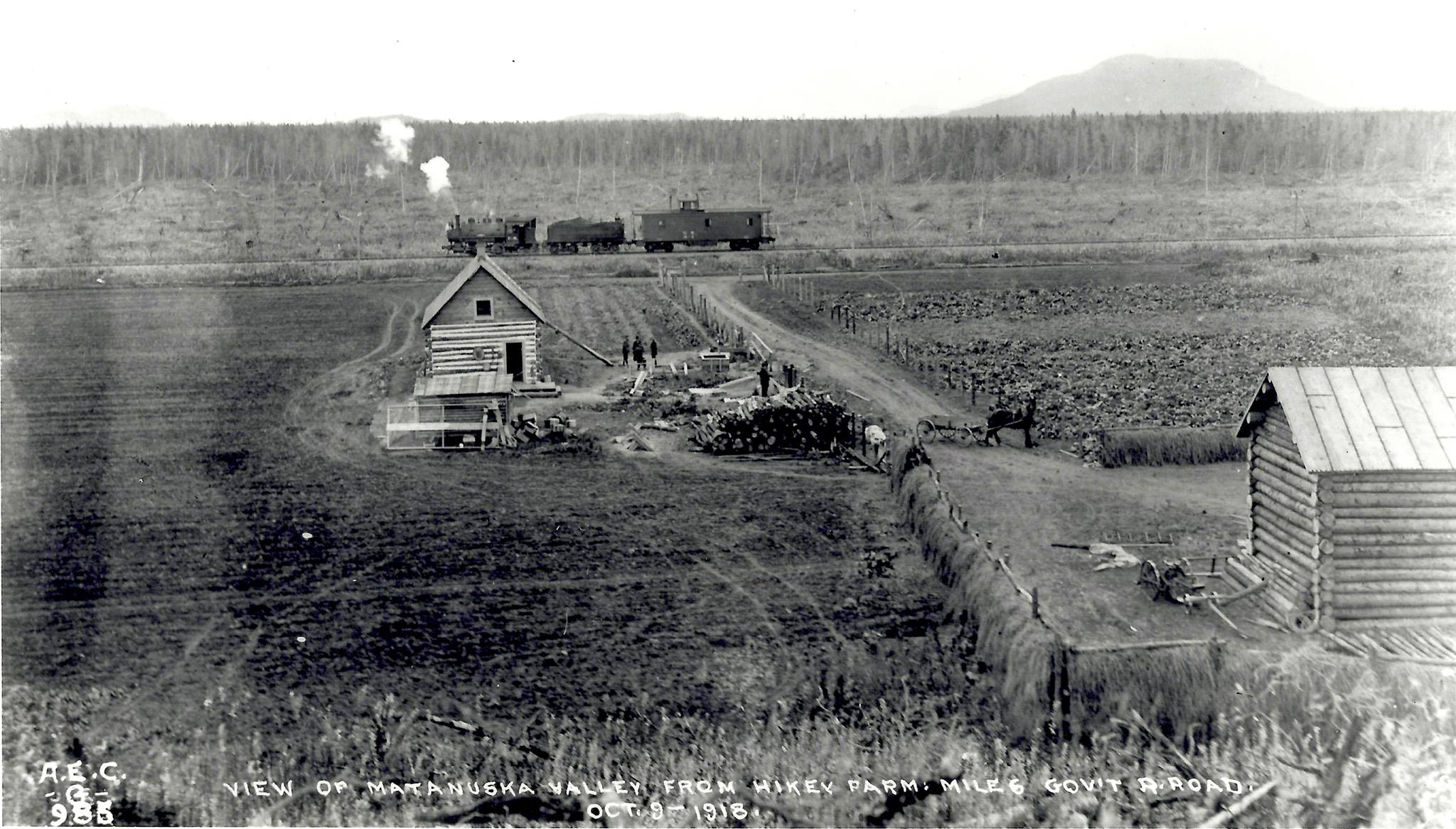 View of Matanuska Valley from Hikey Farm: Mike 6 Gov't R.Road
Mile 6 of the Chickaloon Branch as measured from Matanuska
This is about one mile south of Palmer on the west side of the railroad tracks. This is about where the Wild Goose Restaurant is today. He was there along with some other astute homesteaders as soon as the AEC set the route across the valley.
The locomotive is an ALCO/Rogers 0-4-2 T the real #1 and the first new locomotive unloaded in Anchorage. It was small enough to be handled in one piece across the dock. They stuck an old tender for water and coal behind it for excursions out of Anchorage. The caboose is business car A-1. The people walking around are probably from the Navy Department or the Department of the Interior on an inspection tour with Lt. Mears. This is late in the season and most of the cabbage, etc. has already been harvested. Notice the log leaning against the side of the cabin to brace it against the prevailing winds.
He had some livestock, I see one horse with the wagon at the wood pile. Notice the fence line has hay shocked on it for drying. Looks like a horse drawn mower or potato picker parked next to the barn. The disturbed ground around the cabin could have been potatoes as they were a survivable cash crop for sale to the ARR or in Anchorage.
-- Patrick Durand
---
I believe it's the real ARR #1. ARR# 1 was an ALCO Rogers built 0-4-2 tank engine. If you look really close to the rear of the locomotive you can barely see the single rear wheels, and you can also notice the coal bunker. ARR 1 had some modifications to the cab/coal bunker area around the late 20s. The bunker ran the whole width of the cab, and was level with the top. ARR #1 ran in the early years with a slope back tender, but I have seen other photos like this with ARR #1 with a conventional tender. The ARR #1 in front of the depot was originally narrow gauge until 1947, and if you can see the white "dots" on the cab it says U.S., and the middle dome also has a white "dot", and that would be number 1. As far as I know, the real ARR #1 was the only locomotive of it's kind on the ARR, so I think it is safe to say I am correct in saying this is the real ARR #1 with caboose A-1.
-- Mike Gerenday