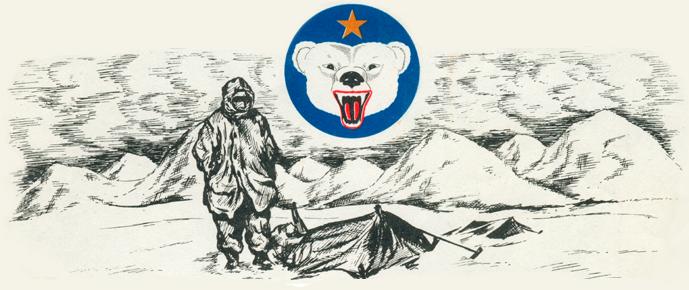 A. J. Reinhardt
714th Railway Operating Battalion
1943-1945
---
During World War II, the Alaska Railroad was used by the army to transport military personnel, supplies, and construction materials between Seward, Whittier, Anchorage, and Fairbanks. To facilitate these activities and to provide security for railroad operations the 714th Railway Operating Battalion was assigned to operate the railroad in May of 1943 in cooperation with civilian railroad personnel. In addition to its rail activities, the Alaska Railroad also operated a river line between the railhead at Nenana and Marshall on the Lower Yukon, and modernized and operated the Eska Coal Mines north of Anchorage in order to adequately supply the coal needs of the army and the railroad during the war. In addition, the 1,150 men of the Battalion helped construct the Whittier cut-off and 31 miles of branch lines from Fairbanks to nearby air bases. The army operation ended in May, 1945.
A. J. Reinhardt was assigned to the 714th Railway Operating Battalion from July of 1943 until May of 1945. He was stationed at Anchorage for twenty three months.
In November of 2004, Alaska Railroad historian Don Marenzi purchased three photo albums from a seller on eBay. These albums once belonged to A. J. Reinhardt and covered his days with the 714th Railway Operating Battalion. Don loaned them to John Combs who scanned approximately one fifth of the photos (and postcards) which can be found at the following links:
Many thanks to Don Marenzi for loaning me the photo albums for use on this project. Whenever possible, the original captions found in the albums were used. However, when captions did not exist a knowledgeable crew came to my rescue. Thanks goes to Albert Bailey, Pat Durand, Duane Frank, Carl Freshour, Don Prince, Jim Reekie and Randy Thompson.