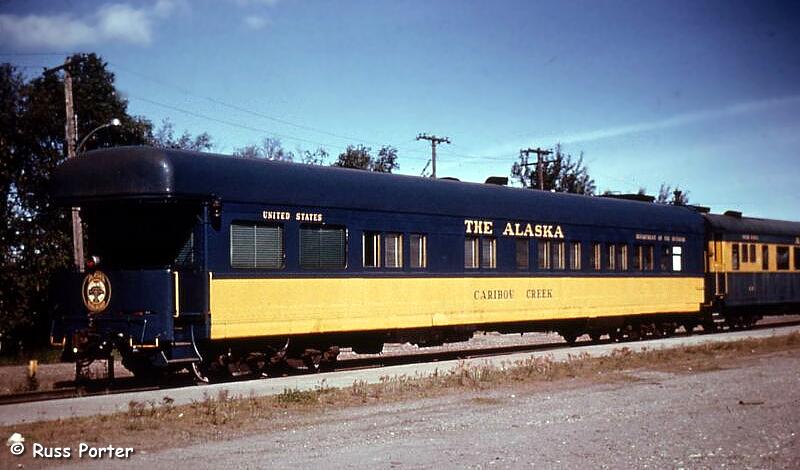 Anchorage, October 1972
Photo courtesy of Russ Porter
The Caribou Creek served as the Alaska Railroad's business car until 1972 when it was replaced by the Denali. Today, the Caribou Creek resides in Elbe, Washington as part of the Mt. Rainier Scenic Railroad.
Caribou Creek was built by American Car and Foundary in 1917. It was rebuilt by International Railway Car and Equipment Company. The Alaska Railroad purchased it in October of 1947 from the Bureau of Mines.
.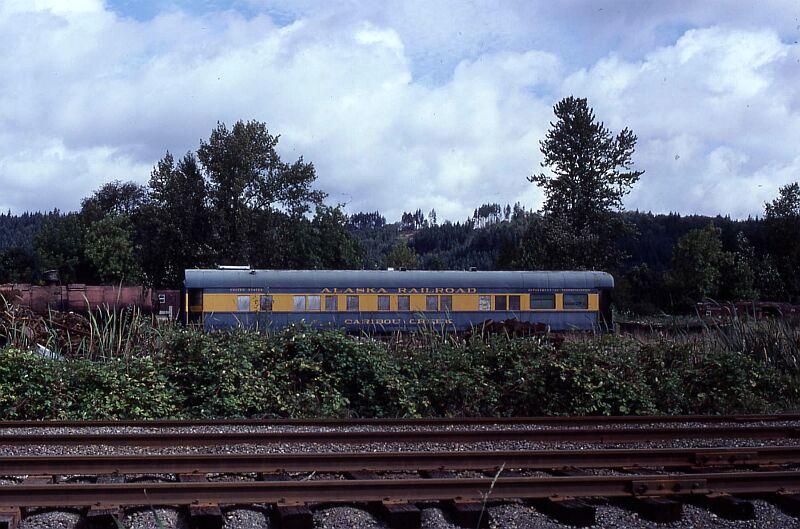 Anchorage, September 1976
Photographer unknown
John Taubeneck update 10/18/09: The Caribou Creek is now the Mount Rainier Scenic Nisqually River. It has been out of service for about 5 years and is stored inside. Here is some information from John Henderson:
Henderson's Newsletter August 9, 1983
Former Alaska Railroad business observation "Caribou Creek" has been acquired from the Purdy Company, Chehalis, WA, and is presently the ticket office and book store for the Mount Rainier Scenic RR at Elbe.The interior has been stripped out and replaced with particle board.
Henderson's Newsletter September 29, 1986
The consist was the cut down "buffalo hunting car", two former SP commuter coaches and the former Alaska Railroad "Caribou Creek" renamed "Deschutes River". The "Deschutes River" was seeing its first service on the Mount Rainier Scenic and your editor noted that the gold stripes were not completed when I photographed it in Tacoma prior to the start of the trip but were completed when photographed when enrout to Centralia.