From: Robertg991@aol.com
Date: March 25, 2011 7:01:04 AM GMT-08:00
To: sewtrain@mtaonline.net
Subject: Re: ARR Passenger Roster X puzzle

Pat,

I believe the baggage car is a 60 series car. Here is a similar car. Possibly 62.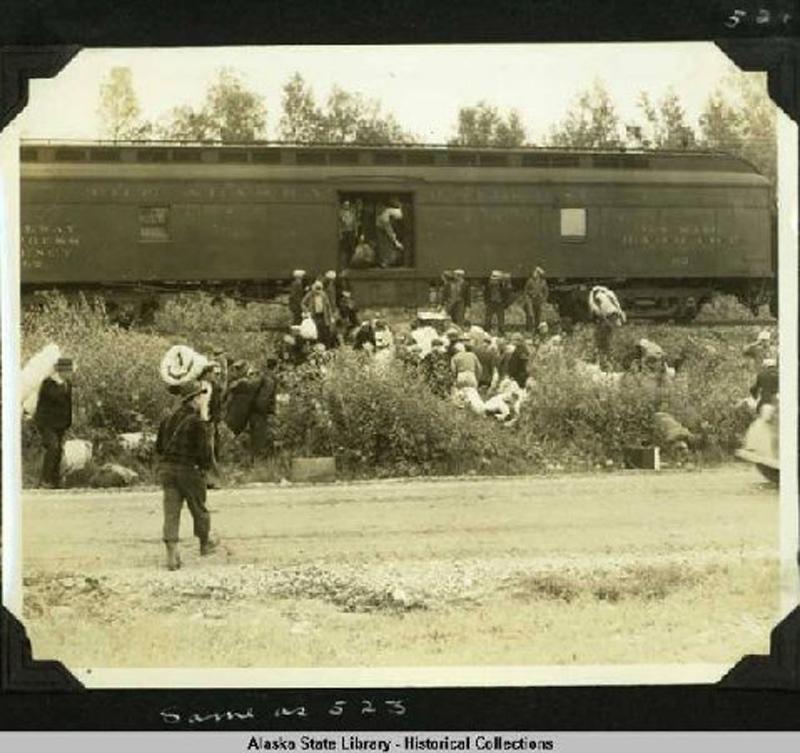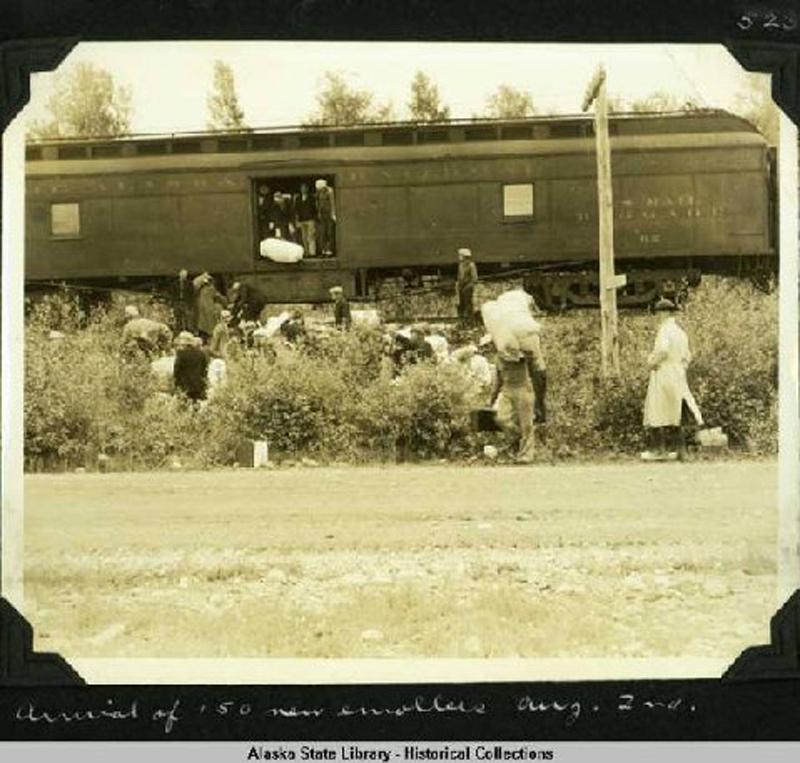 I would think that the six identical cars are the tourist sleepers. I count only 7 windows so they could be paired windows. I can find 6 sleepers on the roster. Would they have left these cars on a siding for the colonist's use until other accomodations were arranged?

The open vestibule car I would speculate to be one of the early 800 series ex NP cars.

Bob




In a message dated 3/24/2011 11:09:06 P.M. Central Daylight Time, sewtrain@mtaonline.net writes:

Here is a photo of a 1939 wreck on the bridge at Moose Pass. The train was bound for Seward from Anchorage. The Express box cars had the 4 wheel arch bar trucks under them and were dumped. Looks like a baggage car over the side as well. Cannot read Dulux Gold lettering on Pullman Green in these old black and white photos.

What we can do is count windows, single or double set, estimate length, note 4 or 6 wheel trucks, closed or open vestibules etc.

Note the number of cars of each design represented on that date, so when we find an appropriate written roster we can try and match them up.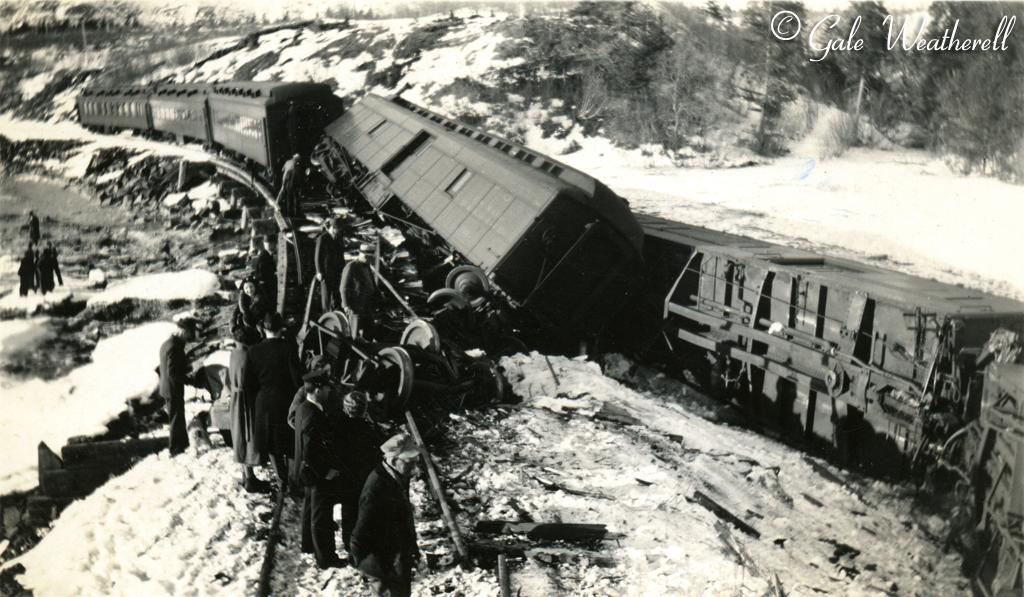 Here is a 1935 photo of a mixed train going from Anchorage to Palmer with Colony Project train. This may be a train of the transient workers or colonist. There are quite a few photos of this time of trains between Seward and Palmer in support of the ARRC. Alaska Rural Rehabilitation Corp.

Notice there are 6 identical cars of old design in the middle of the train which consisted of 22 total cars. The photo was taken from the rear while crossing Eagle River Bridge.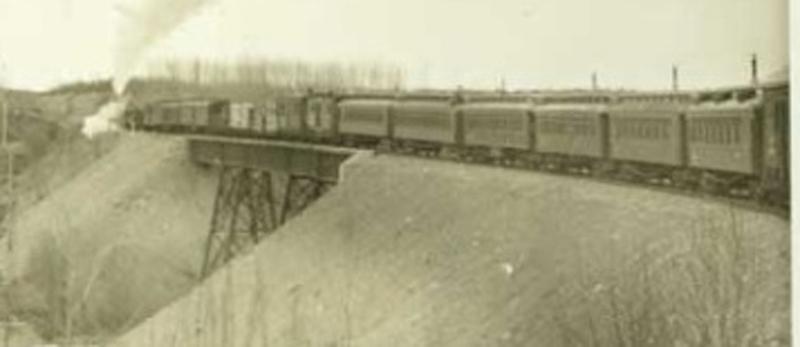 Below is the first train into Matanuska in 1916. The caboose is 1003 and should be noted as a cross reference. The coach has 15 windows single set and open vestibule. This can be built with an Ambroid kit if you can find one with single set windows. Make note of the partially closed celestory with 9 vent screens (the dark areas) the lighter areas are closed in portions.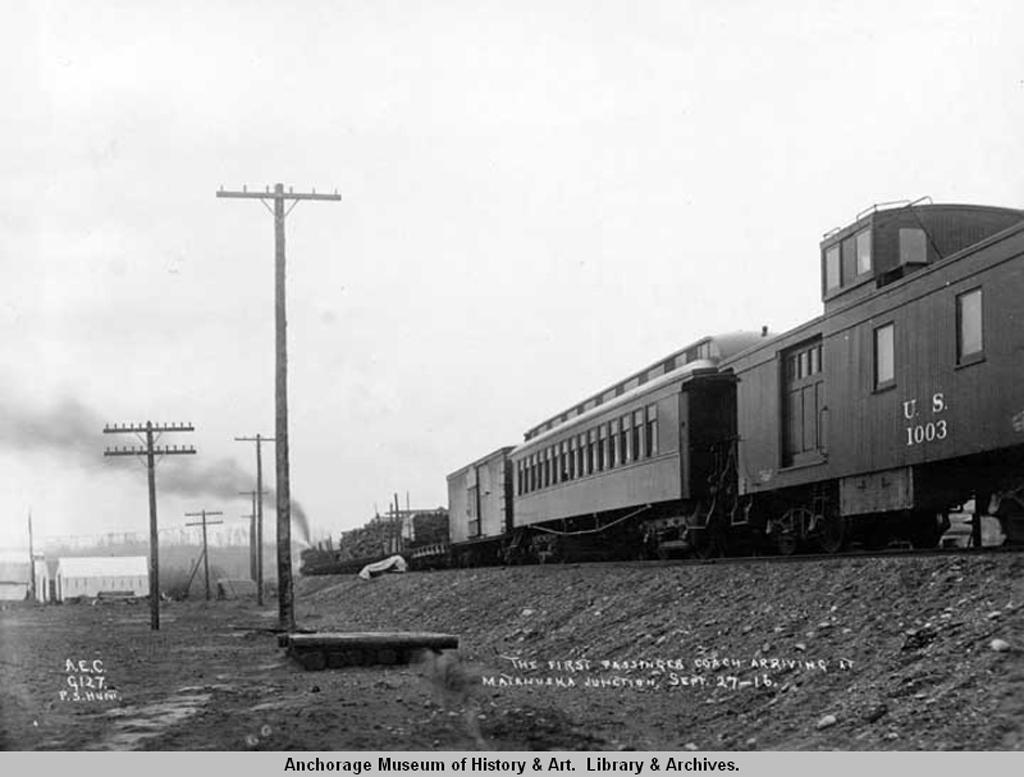 Patrick.



On Mar 24, 2011, at 4:02 PM, Robertg991@aol.com wrote:

Pat,

Yes, you can buy the windows separately. They are cast white metal. The ones for the Denali and the other compartment/observation are #'s 10-123 , 10-121,10-126, 10-124 and smokestacks 10-034. The windows are not perfect representations. Steps are 10-042. Smokestacks are 10-034. Web site is www.labellemodels.com. I am enclosing the scan of the windows sheet.

I am going to enclose the plan for the 14 section tourist cars built in 1898.

The #'s as built were 813-828. This information is from The Great Northern Historical Society reference sheet 290 and is not the whole paragraph; "In 1898, the Eastern Railroad of Minnesota, A GN subsidiary, acquired 16 tourist sleeping cars for use with the marine passenger traffic generated at Duluth."

There was another lot built in 1902 and then the lot in 1907 which were built with the 6500 series #'s so between 1898 and 1907 the 1902 and 1898 batches would have been renumbered in the 6500 series as well.

I await your photos.

Bob