Florida FunTrain History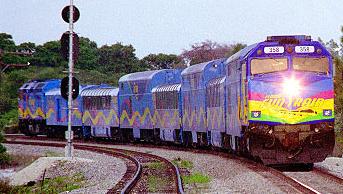 The Creation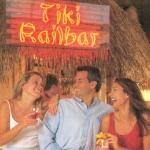 Allen Harper, chairman and chief executive officer of Hollywood-based First American Railways, had a dream. The idea was to create an eight-car train designed to move tourists from beach destinations to Central Florida's theme parks at $45 to $59 a trip. The train cars would be loaded with diversions including video games, live entertainment, tiki bars and restaurants. An estimated $25 million would be needed to create this dream so various investors were recruited to provide enough cash to get the ball rolling.
An agreement was reached with Rader Railcar to build the glass-domed "guests cars" and double-deck entertainment cars at its Denver plant. Amtrak agreed to lease, operate and maintain three F40PH locomotives (numbers 354, 358 and 374) and provide the train's conductor and engineer.
The Fun Train roster consisted of the following:
F40PH locomotives which provided the pulling power.
Glass Dome Passenger Cars for seating around tables for four and meal service for up to 80 passengers.
Adult Lounge and Entertainment Cars for full service bars, musicians and disc jockeys for listening and dancing.
Youth Lounge and Entertainment Cars which provided sodas, shakes and snacks, music and live entertainment provided by musicians, disc jockeys, magicians, comedians, clowns, etc.
Space Station Arcade Cars for travelers to experience the latest high-tech video and virtual reality games.
"Interactive" and Gift Shop Car for educationally-oriented computer and video games and a unique gift shop using a wireless point of sale system
Luggage Car for passengers to check their baggage during their trip.

The six-car, 228-seat train would ferry passengers daily between the 200 mile stretch (via CSX tracks) between South Florida and Orlando-area theme parks. The sleek design would use blazes of vibrant blue, pink, teal green, purple, orange, red and yellow to portray a fun and stylist rail experience. The crew of 24 would dress in shorts and T-shirts with "Fun-Train" written in vivid colors. They would be specially trained to be relentlessly helpful and cheerful for the entire five-hour journey.
The Trip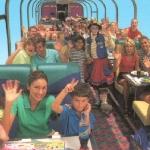 The Fun Train was launched on October 15, 1997 and carried about 120 passengers, half of whom paid $69.95 for a one-way ticket and half travel industry professionals and company guests. After a ribbon-cutting and champagne bottle-smashing ceremony, the train took off, swaying along at an average speed of 50 mph and stopping occasionally to allow other trains to pass. Those onboard enjoyed the thick glass panels that form the top half of the seating cars which allowed panoramic views of the Florida scenery. A magician went from table to table, doing card tricks. A smiling clown entertained children by painting their hands, giving out multi-colored balloons and telling jokes. A 40 ton air conditioning system pumped out cold blasts, helping passengers forget about the sweltering heat outside. Waiters brought food and drinks while passengers played cards, wandered the aisles or checked out the other cars. The Tiki Railbar was full of action with couples dancing to the fast paced music spun by a live disc jockey. Wide-eyed kids tested their skills on the latest virtual reality games while others played on computers.
On August 1, 1998, just an hour into its inaugural trip, the train smashed into a tow truck at a rural crossing in Polk County, killing the truck's driver. The ride was planned as a "soft-opening," or trial run, before the grand opening on August 8. Fortunately, no other trains were so eventful.

The Troubles
Troubles began to appear from the start. The company was initially undercapitalized. The Fun Train could not get approval to end its ride in downtown Orlando thus causing riers to take a bus to the theme parks. A delay in the delivery of rail cars from Rader Railcar II, Inc. forced tour operators to cancel bookings for the attraction. As a result, ridership fell below projections by 80 percent.
In the first half of 1998, the Fun Train reported a net loss of $9.9 million. Stock prices plummeted to 12 cents a share. Desperate for cash, First American Railways sold its only moneymaking asset, the Durango and Silverton railway in Colorado. It then lost three CEOs in two weeks.
To further add insult to injury, Miami-based Carnival Corp. sued First American Railways over using the word "Fun" in its name. The government sued the faltering company in an effort to recover the cost of snuffing out a forest fire that wiped out 270 acres of the San Juan National Forest which was blamed on airborne embers from the steam-driven Durango and Silverton train. Ray Monteleone, former president of First American Railways Inc., brought suit for $1.5 million, claiming the company lied to him, forced him to resign (via a sexual harrassment charge) and breached its agreements.


The Fallout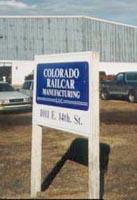 Rader Railcar closed and auctioned off its Denver plant in November, 1997 due in part to First American Railways defaulting on its car payments. It later regrouped as Colorado Railcar Manufacturing LLC and relocated to Fort Lupton, Colorado.
On September 17, 1998, after gushing red ink for two years, the Florida Fun-Train shut down and left hundreds of customers scrambling for refunds. A First American spokesperson said, "We have been unable to finance our previously announced continuing monthly operating cash flow deficit." In the end, the Florida Fun-Train was the little engine that couldn't. First American Railways' mission statement, "To be the recognized leader in providing innovative, quality entertainment-based passenger rail service, offering our customers, communities, employees and shareholders an experience which exceeds their expectations" failed to hold true.
The leased locomotives were returned to Amtrak who reassigned them. As of the fall of 1999, numbers 354 and 358 are still wearing their Fun Train colors. Number 354 has been seen in Milwaukee, Portlan, Spokane while 358 has popped up in Chicago and Colfax, CA and 374 has been spotted in New York an Massachusettes.
The Florida Fun Train consist was sold in a bankruptcy auction in Miami, FL on July 21, 1999. The successful bidder on all of the Florida Fun Train equipment (nine cars) was the Alaska Railroad, with a winning bid of $3.6 Million.