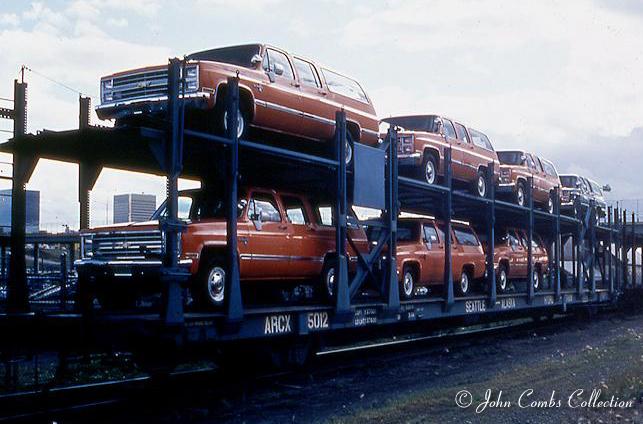 Alaska Hyrdo ARCX double deck auto carrier #5012 with a load of Chevy's. Freight car. 1989
Contributing Commentaries
My recollection and a few photos suggest that autorack cars were a steady, but relatively small business for the ARR. I suspect a couple of racks came north on each Hydro-train barge. I have recollections, but am not sure I can back them up with photos, of blue open autoracks with a hydro-train logo on them spotted at Wrightway Auto Carriers adjacent to the Anchorage yard right where "C" street hit a T intersection. Going left took you to the Port. Turning right took you towards the Knik Arm power plant. There were two tracks which stub ended into Wrightway. I suspect one was for bi levels and the other for tri-levels. I think the most cars I ever saw spotted there were 3. They had only a small amount of parking unlike auto ramps in the "Lower 48". This implies that the vehicles were consigned from Seattle directly to dealers.
I had heard, possibly from John Gray that the autos for Alaska were often loaded onto the Hydro-train racks at the joint UP/MILW auto ramp in Kent, WA. I believe the UP still operates a ramp at this site. I also think the brands were GM and Ford. The Alaska Market was so small, that I doubt manufacturers had enough volume to consign cars directly to Alaska, so dealer orders were probably filled out of inventory at the ramps in Seattle.
The auto racks were unenclosed bi-levels (and possibly tri-levels). And it is possible some were TTX flats with regular RR owned racks on them. I don't recall seeing a Wrightway Truck on the Parks Highway, so I am guessing that autos to Fairbanks were moved by rail, and I think I saw these cars occasionally moving empty on the southbound freights from Fairbanks to Anchorage. But I have no idea where they were unloaded in Fairbanks. The Fairbanks market would have been less than 20% the size of the Anchorage market. Possibly mixed loads were shipped north on the barge with vehicles unloaded in Anchorage and then the remaining cars for Fairbanks sent north on a partially loaded car. The northbound freight generally ran at night through Denali Park when I was growing up, and the southbound often came through in the afternoon, so I don't have any pictures of loaded rack cars heading to Fairbanks.
You have some pictures of later racks, some fully enclosed on your website, so this business obviously continued to some extent, and maybe still does. Sealand also moved vehicles in special double decked containers, some of which I saw moved on the trains between Anchorage and Fairbanks. I suspect eventually most of this business shifted to Sea-land and later Tote as manufacturers tried to tighten up their logistics chains and the slow once a week barge sailings probably could not compete with two and three time a week sailings by Tote and Sealand. Furthermore, the Roll-on, Roll-off capabilities of the Tote ships were also probably much more user friendly than the Sealand containers, so I would guess, now most if not all of the finished vehicles to Alaska move to Anchorage on Tote vessels.
In addition to finished vehicles, I remember seeing lots of larger vehicles and equipment shipped on standard flatcars including busses for the Anchorage People Mover, bulldozers, loaders, various trucks, and a new road grader for maintaining the road to Wonder Lake at Denali Park arrived by rail while I lived there. I think both NC Machinery - the Cat dealer in Alaska - and Jackovich tractor (I think the John Deere dealer) received machinery by rail. NC Machinery used to be located in South Anchorage and in Fairbanks. Jackovich was right near the Anchorage yard office. Much of the machinery for the pipeline arrived by rail, as did much of Usibelli mine's equipment, including (I think) the Ace-in-the-hole drag line. -- Jason Kuehn
---
To the best of my knowledge, ARR did not own or lease any autoracks. Seattle Alaska Hydro Train had the bulk of the business. ARCX got out of the autorack business in the early 90s, the racks removed and ARR picked up the flats as their 18500 series.
I checked my 1986 ORER and it had the following:
- trilevel racks: 5011, 5013-16, 5018-19, 5026-30
- bilevel racks: 5012, 5017, 5020, 5021-25
Those in 5021-30 are not noted as being demountable. This ORER shows ARCX having only 89' flats, 5005-10 not having racks. The boxcars, hoppers, and shorter flats are gone.-- Curt Fortenberry
---
These were used to load autos for Wrightway Auto. I'm not sure why, but we cut the tops off of the autos racks to make them 89 ft flats for the engineering department to load rail. The autos now come up with Tote or in auto containers on Alaska Marine Lines. -- Dale Greth, ARR employee
---
Seems to me we were using racks owned by Alaska Hydro-Train. We delivered them to "Wright-Way" at the south end of the Anchorage yard. The racks were stripped off their flats, probably in the late 1980s, because they were old, corroded an very much in need of repair. If I recall correctly the ARR ended up with the flats, now in a 19X00 series, but I derated them because they too were in pretty poor shape. Too much salt air in both cases. -- Josh Coran, former ARR Chief Mechanical Engineer
---
The only "Auto Racks" that the ARR used were Alaska Hydro-Train (Crowley) owned, and were operated for Wright Way Auto Transport. They were retired when AHT lost the haulage contract to TOTE and the age of the cars was reaching forty years. Most modern Auto-Racks now are TTX owned, because of better contractual and tax advantages and are enclosed for greater load security and less damage enroute.

About twenty years ago, there were several accidents and derailments attributed to the old age of some railroad freight cars then in service. So to save us from ourselves, the railcar building companies (going through a down-turn in new car orders) encouraged Congress and the FRA to put a forty year limit with a ten year waiver to fifty year maximum limit on railcars used in revenue service. The company must, before the fortieth, apply for the ten year extension as it is not automatically given so they are given an out to retire, completely re-build to new standards or buy new.

The Auto-Racks you speak of have had the upper decks cutoff and are used mostly in MOW service for long rail loading. Cars used in captive MOW service can ignore most FRA regulations, except safety related items. -- Anonymous ARR employee
---
I remember Crowley hauling barge loads of new vehicles up here to Alaska. They would fill a barge every year for the Alaska Sales and Service 500 sale. I remember a barge full of auto racks and I asked someone why so many new cars, I was told it was for Alaska Sales and Service. I guess they go through Anchorage now.
The ARR use to have an adjustable ramp for unloading cars from the top of auto racks. It use to be park in the Portage Yard for a long time. It also spent some time in Whittier. It looked like a short flatcar with an adjustable ramp. -- Robert Krol
---
CSX and Santa Fe auto racks were sighted as late as 1999. And let's not forget the Whittier shuttle which used flatcars to haul cars, trucks and buses from Portage to Whittier and back! -- John Combs
---
Current auto shipping methods
There are two methods of shipping into Alaska (well, not including overland transport by truck up the Alaska Highway). While there aren't a lot of shipping options, there are several different companies involved, so I'll try to piece it all together and keep it straight. This is all from just casual observation and a little bit of Internet surfing.
First, Alaska Rail-Marine Service (ARMS-from Seattle?) and Canadian National's AquaTrain (from Prince Rupert, BC) barges arrive weekly in the small town and deep water port of Whittier, Alaska (about 50 miles or so south of Anchorage). Both companies use ships with rails right on the deck (i.e., railcars can be loaded directly on the barge). Depending on the barge, there are somewhere between six and eight different "tracks," and each ship holds in the neighborhood of about 45 rail cars (if memory serves me). These cars are unloaded by ARR crews and switched into a train which goes directly to the Anchorage railyard.
The second method is via container ship. There are two main shipping companies, Totem Ocean Trailer Express (TOTE) and Horizon Lines, and both use the Port of Anchorage (right next to the rail yard). These are trailer and container ships and don't carry rail cars. (The only thing that goes by rail from the Port of Anchorage are containers and trailers bound for Fairbanks.)
Two other companies, Alaska Marine Lines and Northland Services, are consolidators that use the above-mentioned shippers. (AML, also known as Lynden, uses ARMS, and Northland transports goods via the container ships, although I don't know which company.)
When discussing shipping vehicles, it gets confusing. TOTE and Horizon (the container ship shippers) both claim to ship vehicles. Two competing auto carriers in Anchorage, Wrightway Auto Carriers and Alaska Vehicle Transport, are licensed auto carriers, but they really use TOTE, Horizon or AML to ship the vehicles (albeit probably in their own containers).
Here are some sites to reference:
http://www.akrr.com/arrc217.html
http://logisticstoday.com/mag/outlog_story_5355/index.html
http://www.trainweb.org/ultradomes/features/bargeloading.html
http://www.alaskarails.org/industries/aquatrain.html
http://www.alaskarails.org/industries/tote2.html
http://www.alaskarails.org/industries/lynden.html
http://www.wrightwayautocarriers.com/
http://www.alaskavehicletransport.com/
http://www.aml.lynden.com/
http://www.cn.ca/en/shipping-north-america-alaska-aquatrain-cnworldwide.htm
http://www.horizon-lines.com/
http://www.totemocean.com/
http://www.oil-electric.com/2009/10/boxcars-go-to-sea-6-alaska-railroad.html
http://www.aml.lynden.com/shipaml/serv-webcams.html
-- Chris Luth
---
Click here to view a vintage Bethlehem Steel ad
---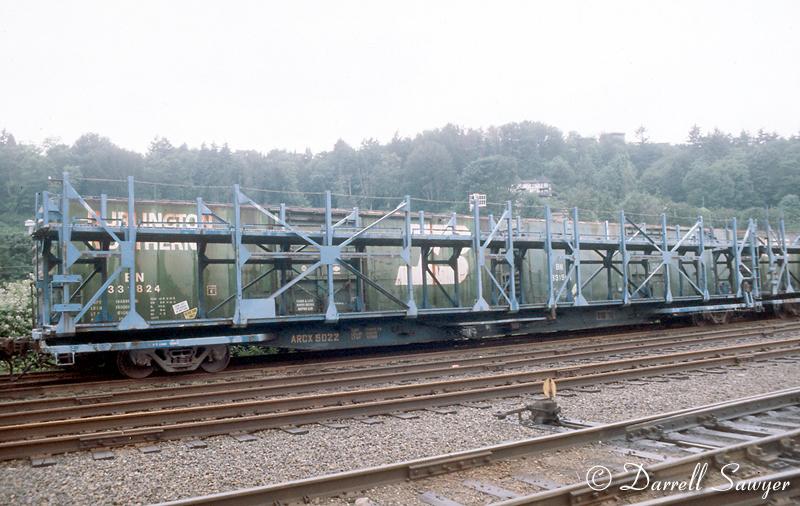 ARCX #5022 (built 5/64) in West Seattle, May 1993.
Page created 1/16/07 and last updated 1/7/10
© 2007 John Combs unless otherwise noted