Company History
Oswald F. Jordan was roadmaster on a New York Central subsidiary when in 1900 he invented a combination spreader-ditcher. In 1905, he left the railroad to start his own business and he purchased land in East Chicago, where he set up his works. Unfortunately, he died shortly thereafter, but it was successfully taken over by "Colonel" Riley, who ran it until 1960.
Harsco Track Technologies was originally founded by Corwill Jackson in 1922 in Ludington, Michigan as the Electric Tamper and Equipment Company and manufactured electric vibratory hand tampers. Incorporated as Jackson Vibrators in 1937, the company later acquired the O.F. Jordan Company and became Jackson Jordan. The product line also expanded to include production and switch tampers as well as tie gang equipment.
Pandrol International Ltd., a subsidiary of Charter plc., acquired Jackson Jordan in 1990, along with Speno Rail Services and Dapco, and formed the Track Maintenance Division. The division is known as Harsco Track Technologies (October 1999 merger of Fairmont Tamper and Pandrol Jackson, Inc.) and is comprised of the main offices and manufacturing facility in Ludington, Michigan; the grinder re-manufacturing and operations facility in Syracuse, New York; and the rail flaw detection research and manufacturing facility in Danbury, Connecticut.



The Jordan Spreader
What the moose is to the animal kingdom, the Jordan Spreader is to the railroad. What it lacks in beauty, it more than makes up for in its versatility. Basically, it is used to maintain the railroad right-of-way. The spreader itself has a high glassed-in cab for visibility and its controls are operated by a separate crew. Spreaders are unpowered and require several locomotives to push them. The locomotive also supplies the air required to operate them.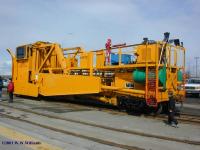 In the winter, it is used as a snowplow. It's wedged front is augmented by spreading its wings via compressed air cylinders. Wings can be extended up to twelve feet on either or both sides.
In warmer weather, the Jordan Spreader is used to spread new rock ballast along the tracks during maintenance work or on the construction of new lines. The spreader is placed behind a string of hopper cars equipped with special bottom doors for ballast work. The hoppers and the spreader are pushed along at a very slow pace by a locomotive. The ballast is unloaded a car at a time and the Spreader, with its plow front and wing blades canted out would smooth and level the ballast along the track.
This procedure is followed by a track tamper which tamps the ballast in place between the ties and line up the track. The function of "spreading" ballast is still required but it is accomplished nowadays by more modern machinery.
They usually carry their own footnotes in timetables concerning movement -- maximum speeds, how they are to be handled in trains, and other restrictions.
Frank Dewey, Alaska Railroad locomotive engineer and veteran snowfighter adds, "The Jordan Spreader was the first 'all season, all purpose tool', may be compared with the 'Swiss Army Knife'. It can slice, it can dice. They were first operated by pneumatic power as air pressure could be supplied indefinitely by the 'pusher locomotive'. As with most modern heavy equipment they were much later equipped with hydraulic power. Spreaders are most often operated in snow service with two pusher locomotives for better traction. Spreaders are now usually replaced for all but the heaviest snows by 'ballast regulators'. "
Roster
Here are a few of the earliest spreader photos. Could these be numbers 1 and 2?
Spreader #3: No information at this time.
Spreaders #5 and #6 (engineering drawing): Retired about 1974-76 (one of them in Transportation museum in Wasilla) older style narrow cramped, wet and drafty cab. Crews liked them because they could wing faster and the pneumatic cylinders reacted much faster, but you had to know what you were doing.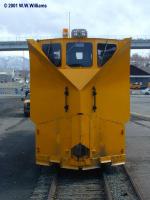 Spreader #7: The "winter spreader" was built in the early 70s to replace spreader #5. Number 7 has a full length house along deck which makes it top heavy, so it rocks and rolls at critical speeds. After a roll-over derailment with the 3008 and the 1805 at MP 139 (1994?), it was rebuilt with four window GP40 style side windows and a propane heater replacing the oil fired stove. The propane stove requires four tanks to be mounted on the sides; kind of looks like bombs hanging there. (another view)
Spreader #8: The "summer spreader" was built about 1976 to replace spreader #6. Rarely used in wintertime, if used mostly on the "south end" with ice cutting edges installed on the front plow. Mostly used for summer ballast work because of better visibility.
Spreader #9: Built solely for snow removal service for the Alaska Railroad in 2000. Bruce Jensen was brought back to Harsco as a consultant for this project. Jordan Spreaders hadn't been built for 19 years and Bruce's expertise as a former Jordan Spreader production manager (1960s to mid 1980s) was desperately needed. He spent a week going through the archives of company drawings and noting necessary changes due to the unavailability of certain parts. For example the 353 Jimmy diesel engine was out of production so a Cummins engine would have to serve as a substitute.
The Alaska Railroad also had a few special requirements of its own. First, they wanted a locomotive control option. It takes two divisions to operate a spreader, MOW (spreader) and operations (locomotive). The locomotive control option effectively moved the locomotive engineer into the Jordan Spreader cab. The engineer then could communicate directly with the crew running the wings instead of via radio plus have an upfront view of the situation. Second, a pistol grip joy stick replaced the manual valves used to raise the wings. Cold climate dictated this change since it is difficult to operate the valves in sub zero temperatures. Additionally, the joy stick is used for throttle and brake control. Thirdly, they wanted a new comfort heating system. Older heating systems were very unreliable since propane would freeze or diesel fuel would gel. The new spreader was equipped with an A/C generator which provided a reliable heater as well as power for lights. Both the joy stick and the A/C generator were a first for Jordan Spreaders.
It took eight months for actual construction of the spreader. It was then shipped to Anchorage via rail and barge. Harsco engineer David Leach flew in to provide operations training. This training was fairly informal since he worked with employees who had already run Jordan Spreaders. All the time was spent covering the new features added to the spreader. Since the winter of 2000/2001 was mild, the railroad didn't have much of an opportunity to try the new unit out.
Click here for a look out of the back window of the new Jordan Spreader.
Click here to see a 1.2MB video of spreader #9 clearing snow at the Spencer siding.
Click here to see a 636KB video of the joystick used to control the blades on spreader #9.
Click here to see a 588KB video of the rear view of the blade as it plows snow.
Page created 6/13/01 and last updated 12/18/13
© John Combs 2001-2013 unless otherwise noted