The railroad boxcar is an amazing thing. It is actually an enclosed, water resistant box on wheels. Access is gained through sliding doors (single or double) on either side and the floor is strong enough to support the weight of a loaded forklift. They can be from 40 to 90 feet in length and carry 70 to 100 tons. Boxcars carry auto parts, appliances, food goods, consumer products, pulp, paper board, scrap paper, newsprint and lumber. Boxcar usage has dropped significantly since the 1980s due to the increased usage of covered hoppers and intermodal trailers/containers. Currently, boxcars make up approximately 16% of a typical consist. The history, maintenance and capacity information for a boxcar is displayed on its side.
Boxcars are defined by their capacity and dimensions. A boxcar's cubic capacity is obtained by multiplying the inside dimensions - length, width and height (of the side wall). The boxcar's trucks also determines the weight it can handle. Trucks are rated for 70 ton (33" diameter wheels/220,000 lbs.) and 100 ton (36" diameter wheels/263,000 lbs.). As of 1/1/95 the AAR allowed freight cars with 100 ton trucks to be rated at 286,000 lbs provided the car could structurally support the load. The load capacity of the car is the difference between the Gross Rail Load (GRL) rating and the empty weight of the car. Finally, boxcars are defined by their overall length and height. Length is used to determine maximum number of cars that can be put into a siding or staging yard. Height is used to ensure proper clearance through tunnels and various overhead apparatus. The maximum height of a boxcar is 17 feet.
Boxcars come in two door types, the plug door and the sliding (corrugated) door. They can have one or two doors per side. Door widths are 10' or 12' for singles and 16' for doubles. The sliding door system keeps both the weather and direct sunlight out. It slides using two rollers in a door track and can be opened or closed by pulling on the door handles. The plug door system closes with a final inward movement (similar to most van sliding doors) that seals the door flush with the interior of the boxcar. This provides a much better seal than the sliding door boxcar. A rotating lever on the door activates a gear system to "plug" and "unplug" the door.
Current boxcar technology includes movable bulkheads, end cushioning and air bags to improve efficiency and prevent damage. Insulated cars can carry perishables which do not require mechanical refrigeration cars. Refrigerated boxcars now use carbon dioxide "snow" to maintain a cold temperature for shipping meats, juice and other frozen products.
Boxcars can also be used for storage and maintnenace of way. Numbers 95101, 95102 and 10811 are used by ARR Supply between anchorage and Fairbanks to load company materials.



Click on the pictures below for a larger view.
| | | | |
| --- | --- | --- | --- |
| | | | |
| Boxcar number 10366 in Healy, AK (7/4/98). These were built by Pullman Co. or A.C.&F. in 1943. These ex-Troop sleeper/kitchen cars were rebuilt by C.F.C&P. in 1948 & put into service. Only a handful of these are still in MOW use with the rest turned over for scrapping. | Sixty-foot insulated boxcar #10803 at Anchorage (10/8/98). This car was made by P.C. & F. and the ARR purchased 35 of them (nos. 10800-10834) in 1965. More | Boxcar #10515 | The ARR used several boxcars as billboards. They were placed by the Anchorage depot in early 1981 and were pulled out sometime between 1986 and 1991. One of these cars now sits behind the ML&P yard on First Avenue in Anchorage. |
| | | | |
| This is the old style ARR boxcar. Sometimes a box car is converted to an ice reefer like this one. | Old boxcars never die they just change their owners. These boxcars had their trucks removed and are now used as commercial storage units. I remember traveling out west and seeing home owners use them as storage barns. | Still in use as of September 2006! | Boxcar 8018 |
| | | | |
| PC&F 6033cf Hi-Cube boxcar | PC&F 6033cf Hi-Cube boxcar | HiCube boxcars (8000 series) | Troop Car 10240 scrapped in 2010 |
These silver boxcars are the AAR standard design. They were built by Pressed Steel, Thrall, Pullman Std. from 1943 to 1957. The ARR acquired 10150 through 10162 in 1980. These cars are ex-Navy, which is why they are silver. The ARR never repainted them.

The ARR keeps a small fleet of the double doors and 1 1/4 doors around for company MOW use. This means they are used when the company needs items moved. Portage section may need more charcoal for the tunnel heaters so a box is loaded and spotted at Portage. Hurricane needs a new water heater, it's loaded and the car is dropped off one day and picked up the next. See also 1, 2, 3
On 1/26/15 Curt Fortenberry added:
ARR had the following ex USN boxcars. All ARR did was paint out the navy markings, so all remained silver in color:
10150-10162 50' double 7 1/2' doors
10175-10181 4' & 6' doors
More boxcar photos: 8012, 10152, 10351, 10717, 10913, 11402, 11723, ARCX 3011, MoW at Hurricane
---
March 10, 2011 Update by David Blazejewski:
To answer your question the "new" boxcars you saw are actually leased from CIT Rail and carried CEFX reporting marks before we picked them up. They replaced the 109xx series boxcars whose leases had expired and rather than renew those we chose to lease these "new" cars for a better price. There are 14 total and will move in interchange service between the lower 48 and Alaska mostly in drilling mud service to/from Fairbanks.
The numbers are :
ARR 50528
ARR 50494
ARR 50577
ARR 50559
ARR 50570
ARR 50493
ARR 50518
ARR 50576
ARR 50596
ARR 50511
ARR 50595
ARR 50539
ARR 50573
ARR 50592
Click here for the Equipment Identification File (EIF).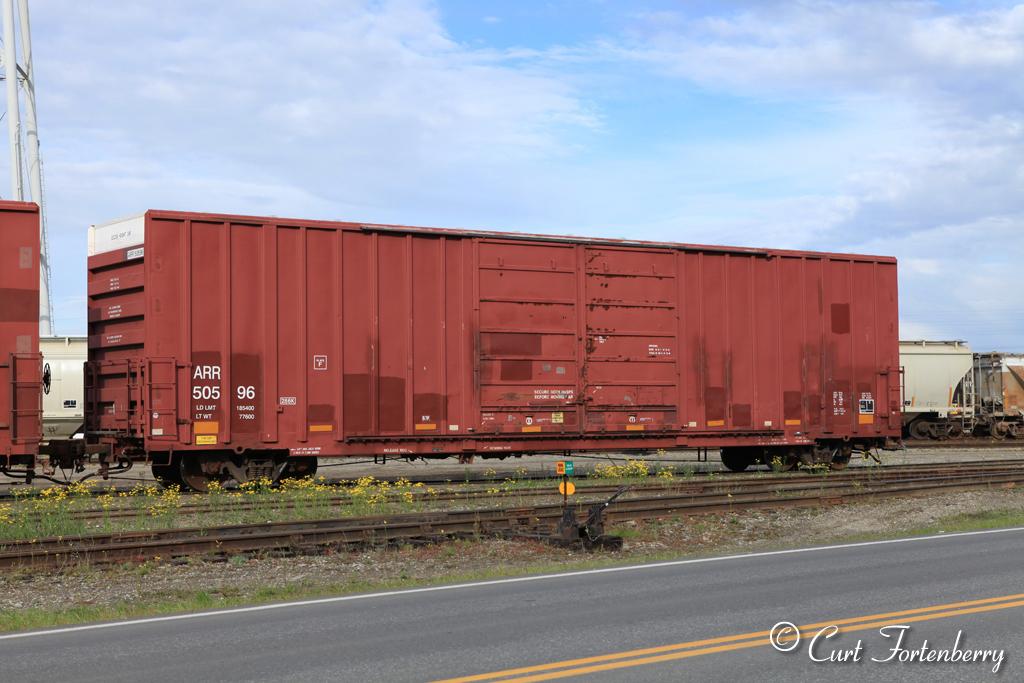 Photo courtesy of Curt Fortenberry
Fairbanks, September 14, 2011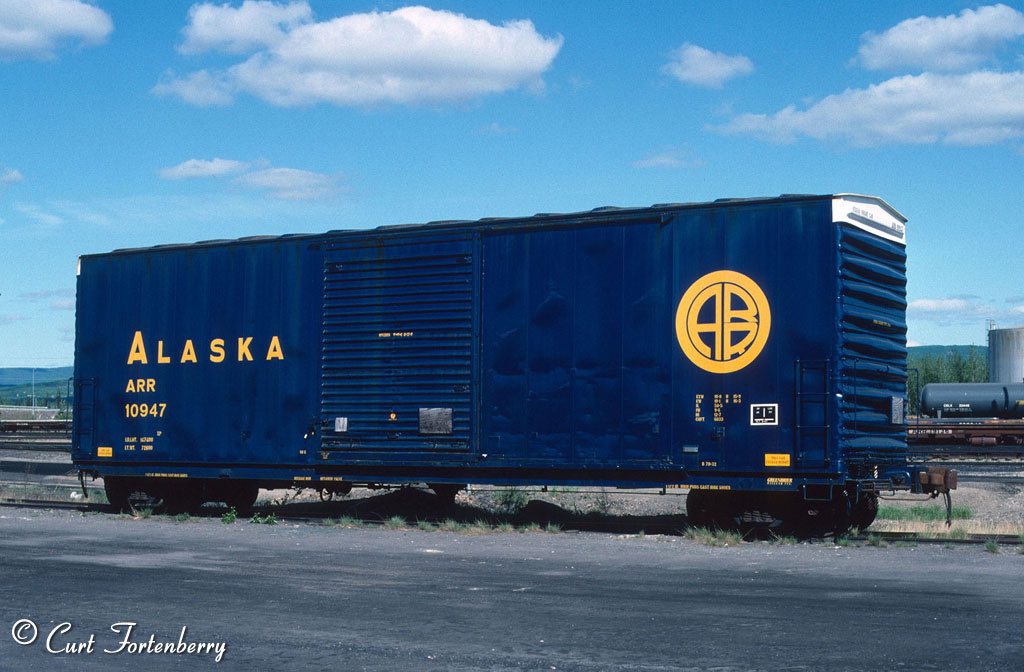 Photo courtesy of Curt Fortenberry
PC&F boxcar #10947, Fairbanks, May 15, 1995
See also:
---
Thanks to Jeff Childs, Casey Durand and Curt Fotenberry for providing various information!
© 1999-2016 John Combs unless otherwise noted
Page created 3/8/99 and last updated 8/26/16