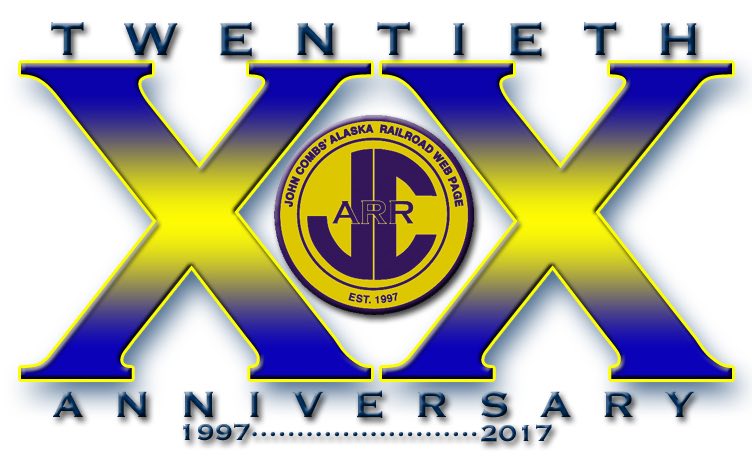 Extra 557 Returning Print
Engine 557 Restoration Company, sewtrain557@gmail.com
Robert Brooks, Lakewood, CO
Engine 557 hat
Engine 557 Restoration Company, sewtrain557@gmail.com
Forrest Prince, Reno, NV
Engine 557 magnet
Engine 557 Restoration Company, sewtrain557@gmail.com
Scott Rampenthal, Orlando, FL
Walthers HO scale Alaska Railroad Rotary Snowplow
Patrick Durand, sewtrain557@gmail.com
Stepen Sheldon, Seattle, WA
Alaska Railroad Walthers HO scale Difco dump car, #15804 (Item No. 932-7914)
Roundhouse Hobbies, PO Box 149, Denali Park AK 99755, info@roundhousehobbies.com
Tim Sullivan, Chugiak, AK
Alaska Railroad Atlas HO scale Evans 53' double plug door boxcar, #10806 (Item No. 150-20003431)
Roundhouse Hobbies, PO Box 149, Denali Park AK 99755, info@roundhousehobbies.com
Charles Youdris, Frankfort, IL
DCC Sound-Equipped Alaska GP38-2 (Item No. 66804)
Bachmann Trains 1400 East Erie Ave. Philadelphia PA 19124, 215-533-1600
Luke Smith, Leavenworth, KS
Metal steam locomotive wall art, approximately 12"x24"X1/8
Artist Casey Durand with Ice Monkey Garage
Roger Dill, Springfield, OH
Alaska Railroad timetable #121 (1988)
John Combs
Daniel Gullickson, Anchorage, AK
Alaska Railroad timetable #111 (1982)
John Combs
Joseph Meyers, North Chittenden, VT
Alaska Railroad Tours metal mug
Holland America Princess Alaska-Yukon
Alexander Gudschinsky, Fairbanks, AK
Princess Denali Express long sleeve T-shirt (size large only)
Holland America Princess Alaska-Yukon
Paul Duncan, Trophy Club, TX
Princess Denali Express long sleeve T-shirt (size large only)
Holland America Princess Alaska-Yukon
Terry Douglas, Anchorage, AK
Alaska Midnight Sun Express coffee mug
Holland America Princess Alaska-Yukon
Robert Garner, Rock Island, IL
Alaska Midnight Sun Express coffee mug
Holland America Princess Alaska-Yukon
Mike Gerenday, Talkeetna, AK
Midnight Sun Express magnetic
Holland America Princess Alaska-Yukon
Jim Durst, Fairbanks, AK
Midnight Sun Express magnetic
Holland America Princess Alaska-Yukon
Todd Hanson, Lino Lakes, MN
Alaska Railroad wooden train whistle
Holland America Princess Alaska-Yukon
John Peters, Springfield, MA
Alaska Railroad HO scale EMD SW-1 #1202 Locomotive (Item No. 910-9224)
Curt Fortenberry, arrphoto@alaska.net
Volker Gerisch, Wiesbaden, Germany
Alaska Railroad In Color
Morning Sun Books, 1200 County Road #523, Flemington, NJ 08822, 908-806-6216
Steve Roberts, Cleveland, OH

The Alaska Railroad DVD (filmed in 2016 and in 1080i)
Big "E" Productions, P.O. Box 75, Greenland, NH 03840, 800-832-1228
Jeff McCrea, Bellevue, NB
The Alaska Railroad Blu-Ray (filmed in 2016 and in 1080i)
Big "E" Productions, P.O. Box 75, Greenland, NH 03840, 800-832-1228
Mark Jones, Avondale, AZ
The Alaska Railroad Blu-Ray (filmed in 2016 and in 1080i)
Big "E" Productions, P.O. Box 75, Greenland, NH 03840, 800-832-1228
Richard Elgenson, Long Beach, CA
DCC Ready Alaska GP38-2 #2001 (Item No. ATH29316)
Athearn Model Trains, 1600 Forbes Way Suite 120, Long Beach CA, 90810
Brian Kemp, Nampa, ID

Here are the official rules:

1. No purchase necessary. It's free! Simply fill out the email lottery form below.

2. The lottery is open to everyone except my immediate family members. Only one entry per household, please! Bot or spammer entries will not be accepted.

3. The entry form must be completed in full. Any incomplete form will void entry into this lottery.

4. Entries must be received by 12:00 midnight Eastern Standard Time on April 30, 2017.

5. Winners will be selected by random drawings on May 1, 2017. The drawings will be conducted by an Eagle Scout (how much more honest can it get than that?). All decisions are final.

6. Winners will be notified by e-mail and will have their names, city and state posted on the winner's page. No other information (email address and phone number) will be shared with anyone.

7. In order to receive the prize, winners must reply within 15 days. Failure to reply or the return of any prize as undeliverable will disqualify a winner and another random drawing will be held.

8. Prizes will be shipped 1-3 weeks after drawing date.

9. Prize descriptions and photos may not exactly depict the item. I am just one guy doing this and am trying to do the best job I can.

10. The winning odds depend on the total number of entries received within the entry period. Entries received as of 4/30/17: 44

11. This lottery is void where prohibited by law. All federal, provincial, state, and local laws and regulations apply.

12. Good luck and have fun!!!

---

The email lottery is now closed.