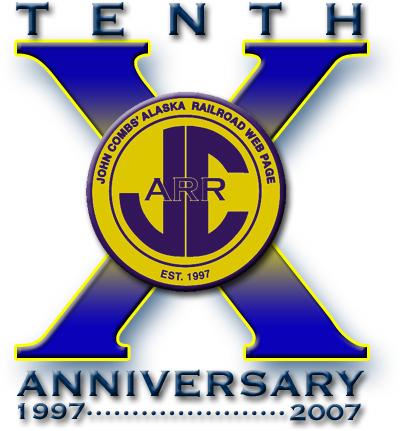 Justin Perry, Titusville, PA
Book: "Ol' 556 Alaska's Mighty Steam Engine"
Pat Durand
Jason Kuehn, Littleton, Colorado
HO scale decals: 75th anniversary & MP15 #1553
Harold Emerick
Nathan Holmes, Colorado Springs, Colorado
N scale single dome tank car
Micro-Trains Line, 351 Rogues River Parkway, P.O. Box 1200, Talent, OR 97540-1200, 541-535-1932
John Williams, Fairborn, Ohio
N scale Alaska state boxcar
Micro-Trains Line, 351 Rogues River Parkway, P.O. Box 1200, Talent, OR 97540-1200, 541-535-1932
Chad Carscallen, Spokane Valley, Washington
Atlas N scale, GP-40-2 w/decoder #3011
Hobbycraft, Inc., 800 E. Dimond Blvd Suite 136, Anchorage, AK 99515-2048, (907) 349-5818, Hobbycraft@gci.net
Shannon Smith, Caruthers, California
Express box car (rebuilt troop sleeper) #10408
Wm. K. Walthers, Inc., 5601 W. Florist Ave., Milwaukee, WI 53218, 800-877-7171
Richard Monts, Easton, Pennsylvania
Book: "Portrait of the Alaska Railroad"
Roundhouse Hobbies, 17428 S.R. 203, Monroe, WA 98272, info@roundhousehobbies.com
Allen Guntz, White River Junction, Vermont
HO scale Athearn F7A locomotive #1506
Roundhouse Hobbies, 17428 S.R. 203, Monroe, WA 98272, info@roundhousehobbies.com
Walker Coe, Angus, Ontario
1938 Alaska Railroad Brochure
John Combs
Stefan Canali, Switzerland
Employee timetable #133
John Combs
Art Chase, North Pole, Alaska
2007 Alaska Railroad medallion
Alaska Mint, 429 West 4th Avenue, Anchorage, AK 99501, 1-800-770-6468, info@alaskamint.com
Brian Kemp, Whitefish, Montana
Alaska Railroad coasters
Charlie's Alaska Trains, 333 W 4th Ave Suite 216, Anchorage, AK 99501, 907-278-7246, aktrains@ptialaska.net
Jim Sylvester, Skowhegan, Maine
2007 Alaska Railroad poster signed by the artist
Art Chase
Thanks a million to all companies and individuals for donating these prizes!
Here is some email lottery trivia:
1. Jason Kuehn won the HO scale decal sets 75th anniversary and MP15 #1553. Of his prizes he says, "This will be great. I gave my other set of 75th Anniversary decals to Dieter Stehli in Switzerland, and I have an undecorated Atlas MP 15 configured like the 1553, so I will have to get it painted in my copious spare time!"
2. John Williams won the N scale Alaska state boxcar. We both work at Wright-Patterson AFB and even though we have never met, we work in the same complex.
3. We had two winners from other countries, Canada and Switzerland.
4. Chad Carscallen was the last email lottery received. He won the Atlas N scale, GP-40-2 w/decoder #3011.
5. I confirm every entry received via email. I confirmed one such entry, but by the time the lottery ended and he was notified he had won, his email address was no longer valid. So if Kevin Caldwell from Sparks, Nevada contacts me in the future, I would be glad to award another "Portrait of the Alaska Railroad".
6. With 123 entries and 13 prizes there was approximately a 1 in 10 chance of winning.
---
Here are the official rules:

1. No purchase necessary. It's free! Simply fill out the email lottery form below.

2. The lottery is open to everyone except my immediate family members. Only one entry per household, please!

3. The entry form must be completed in full. Any incomplete form will void entry into this lottery.

4. Entries must be received by 12:00 midnight Eastern Standard Time on April 30, 2007.

5. Winners will be selected by random drawings on May 1, 2007. The drawings will be conducted by an Eagle Scout (how much more honest can it get than that?). All decisions are final.

6. Winners will be notified by e-mail and will have their names, city and state posted on the winner's page.

7. In order to receive the prize, winners must reply within 15 days. Failure to reply or the return of any prize as undeliverable will disqualify a winner and another random drawing will be held.

8. The winning odds depend on the total number of entries received within the entry period. Entries received as of 5/1/07: 123

9. This lottery is void where prohibited by law. All federal, provincial, state, and local laws and regulations apply.

10. Good luck and have fun!!!