Florida East Coast
(The ARR Paint Clone)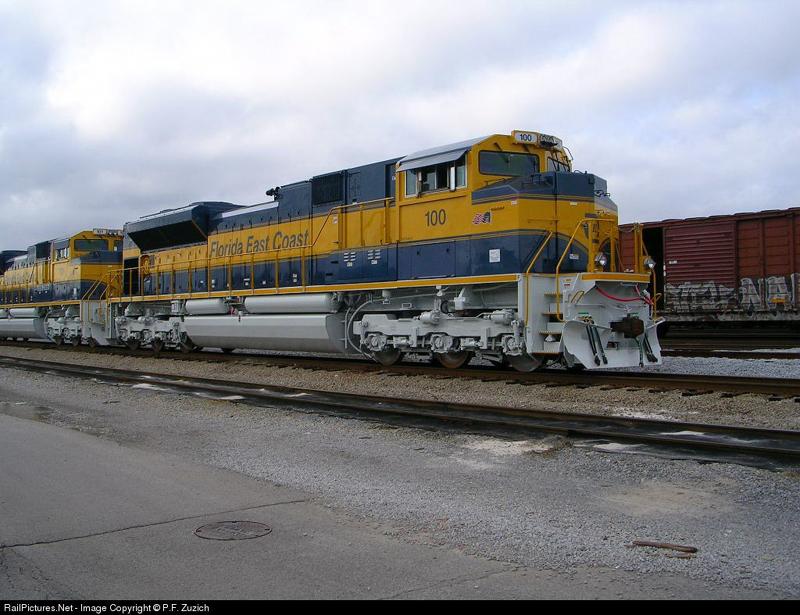 P.F. Zuzich lensed these brand new FEC SD70M-2s in Nashville on Thursday, en route to delivery in Jacksonville (photo link, below). Resemblance to the Alaska Railroad paint scheme on SD70MAC #4320, as seen in John Combs' and Kai Vollmer's photos of her (links also below) is easy to spot, but I really like it! The light gray undercarriage on the FEC units really brings out every little detail, 'down below'. It'll be easier to keep that area clean in Florida's sandy environment than it would be elsewhere in the rest of the Lower 48...or up in Alaska.
Those truck sideframes, that 'chiseled' cab front and various vent openings, boxes and bumps along the roofline make FEC #100 look like something Montreal Locomotive Works might have produced, if it were still around. In a way, she looks a bit like the offspring you'd get if you cross-bred an MLW M636 'mother' and an EMD SD45 'father'.
http://www.railpictures.net/viewphoto.php?id=170545
http://www.alaskarails.org/stories/ARR-Combs-2006/pix/JC-7589.jpg
http://www.railpictures.net/viewphoto.php?id=159233
Though they operate over 3,600 miles apart, these FEC and ARR engines (besides sharing very similar paint schemes) will also share recurring 'exposure to hurricanes'. Ironically, the FEC "Hurricane" logo on the nose of #100 will no doubt witness some REAL Florida hurricanes, while the ARR logo on the nose of #4320 will frequently witness the 918' long, 296' high Hurricane Gulch Bridge steel arch over the Chulitna River at M.P. 284.2, near Hurricane, Alaska, a little more than half-way up the ARR main line to Fairbanks! It's worth a look: here's the span on John Combs' Alaska Rails website:
http://www.alaskarails.org/route-map/hurricanegulch.html
The Electro-Motive 'bow wave' on the wide noses of these big FEC SDs has roots that can be traced back over a decade to Burlington Northern SD70MACs and the Conrail SD80MACs (minus the bordering pin-striping), as seen in this Paul Rome photo of new BN SD70MAC #9716:
http://www.rrpicturearchives.net/showPicture.aspx?id=429557
...and Bradley Curcio's view of brand-new CR SD80MAC #4109:
http://crcyc.railfan.net/locos/emd/sd80/cr4109ef.jpg
I doubtr FEC #100 and ARR #4320 will ever find themselves coupled together in run-through 'pool' service, but it sure would make for an interesting comparison and contrast.
---Nate Clark, 1/6/07
---
These were sent to me by Larry in Florida. The photos are by Robert T. Nordstrom. These new FEC MAC paint schemes sure look a lot like the ARRC MAC's. Wonder what the ARRC thinks of this? -- Randy Thompson, 1/9/07
---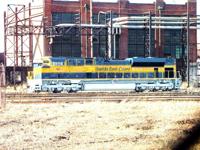 Photos by Joe Ferguson