75th Anniversary
Ceremony Program Schedule
July 15, 1998
9 a.m. - Train leaves Fairbanks
11:15 a.m. - Train arrives Nenana
11:30 - 1:15 p.m. Salmon Bake luncheon provided by City of Nenana
1:30 - 2:15 p.m. Dedication Ceremony

Master of Ceremony - Johne Binkley, ARRC Board Chairman
Presentation of Colors
National Anthem - Air Force Brass Band
Introduction of Honored Guests
Greetings from Nenana - Jack Coghill and Bob Knight
Greetings from Bill Sheffield, President and CEO
Dedication of Time Capsule (list of enclosed items)
Reading of Plaque on the Monument
Other unidentified speakers
Speech from Federal Representative - Steve Dittemeyer, FRA
Speech from Gov. Tony Knowles
Redriving of the Golden Spike (Gov. Knowles, ARRC Employee, Walter Teeland)
Closing words from Bill Sheffield inviting everyone to return for the opening of the time capsule in 2023 - the 100th anniversary
Alaska State Flag Song - Air Force Brass Band

2:30 p.m. Trains leaves Nenana
4:15 p.m. Train arrives Fairbanks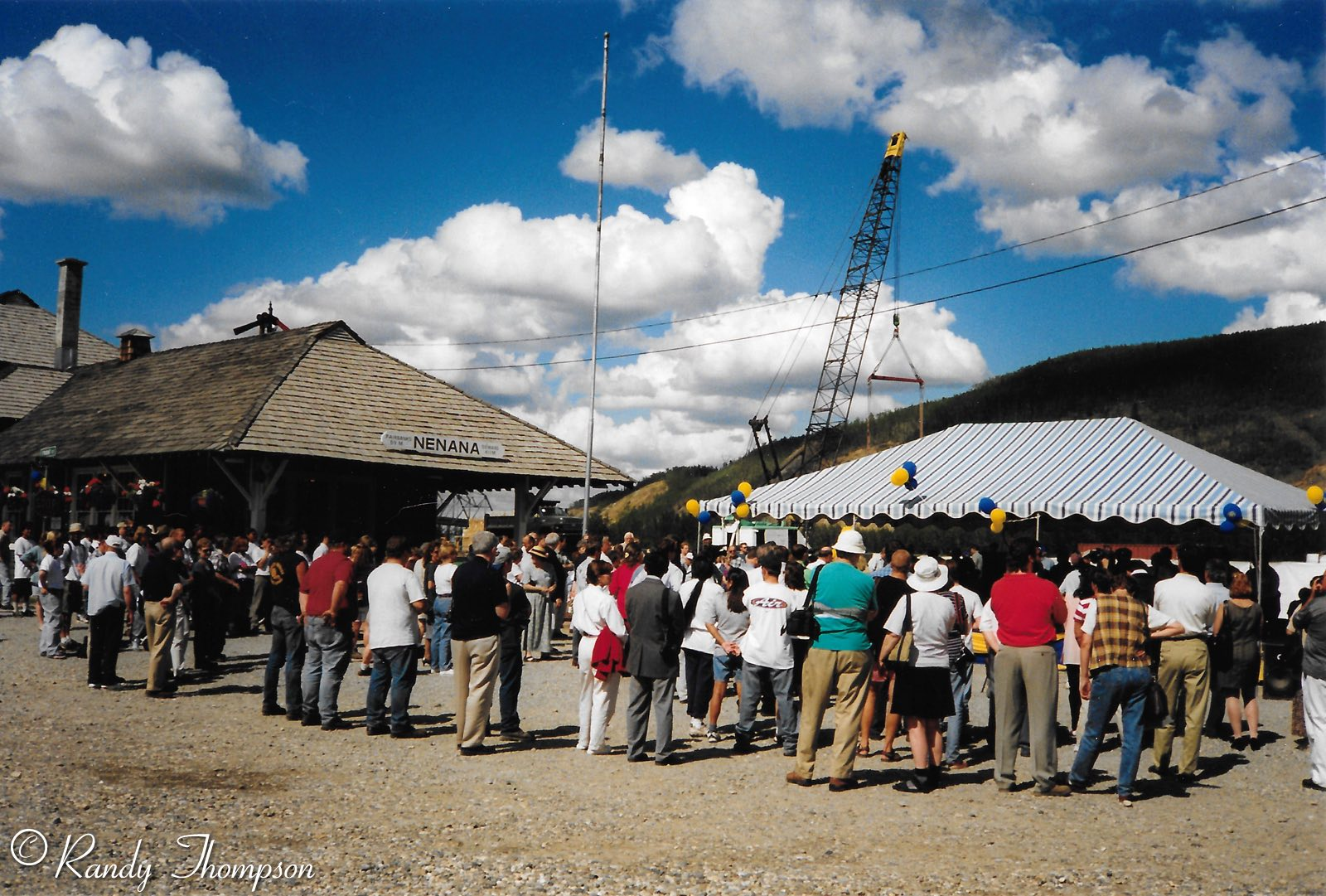 75th anniversary at the Nenana Depot. VIP tent is at right.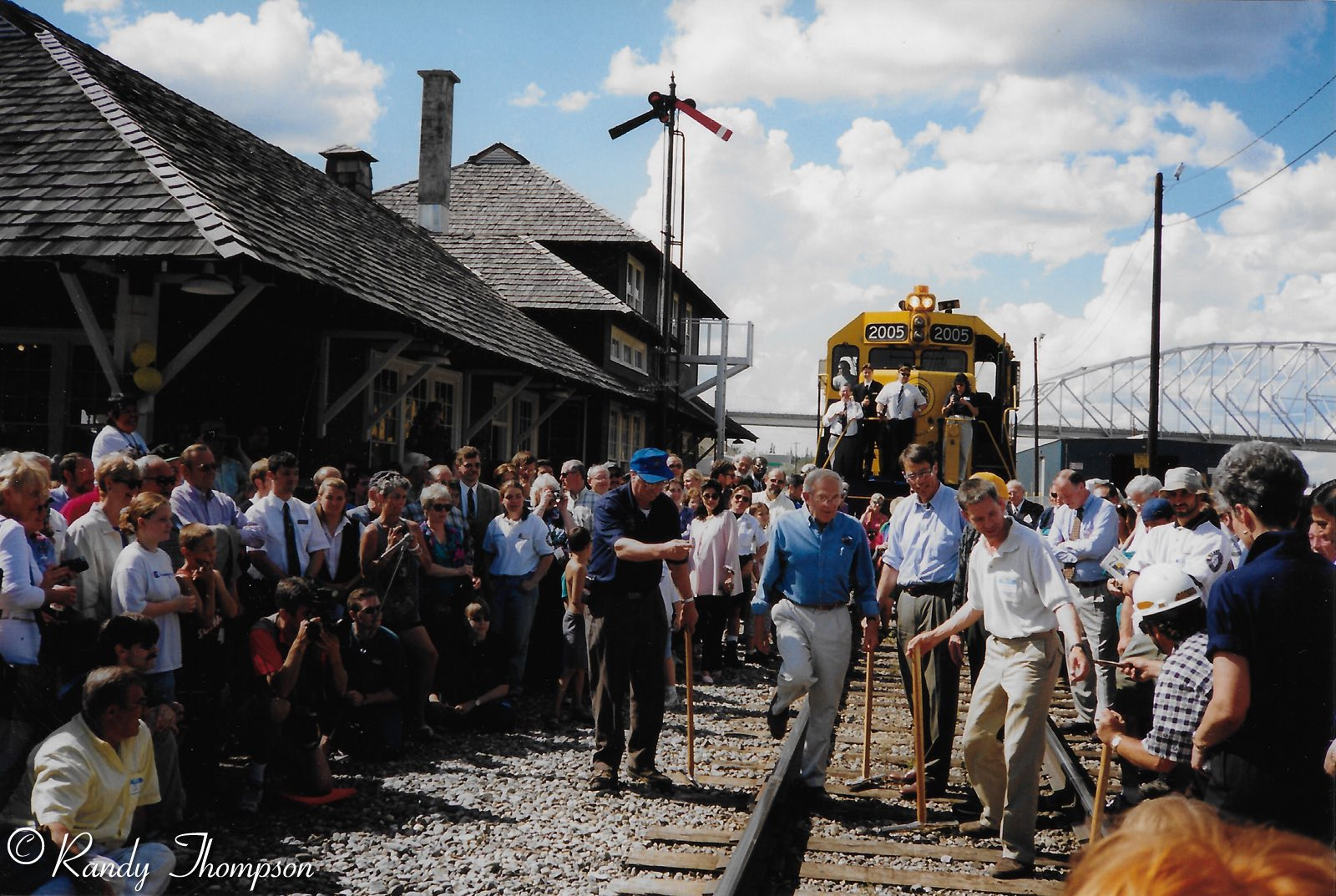 Gold spike ceremony in Nenana. The people holding the mauls are Steve Love (blue hat), Gov. Tony Knowles (safety glasses),
Chairman of the ARRC Board Johne Binkley (white shirt) and Roadmaster Rick Leggett (white hard hat).
Also pictured is President and CEO Bill Sheffield (dark blue shirt, stepping over rail).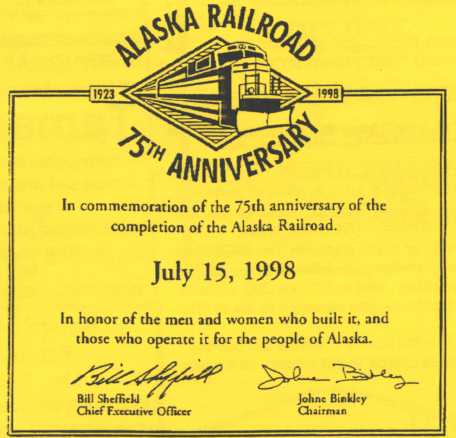 Plaque on Monument at Nenana.
July 15, 1998 letter from Gov. Bill Sheffield
Dear Friend of the Alaska Railroad:

Many thanks for joining us today to celebrate the 75th anniversary of the completion of the Alaska Railroad. On behalf of the Board of Directors and our employees, I hope you will feel the same pride we have for this special and vital Alaska institution.

The Alaska Railroad is dedicated to service to Alaska communities and businesses. We do our best to run the safest, most efficient, customer-oriented railroad in North America. We're self-supporting through our revenues and we're always mindful that many of our customers are also part of the line.

It's an historic day, a great day for the Railroad and a great day for the State of Alaska. Thanks for joining us and thanks for your support.

Gov. Bill Sheffield

President and CEO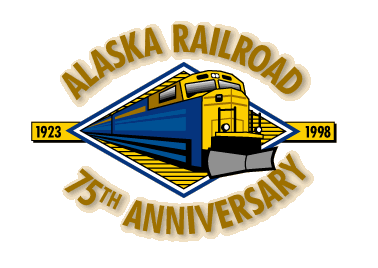 AK Facts | Bibliography | Contact Me | Creations | Email Listings | Forms | Hall of Fame | History | Index
Industries | Links | Maps | Modeling | Multimedia | My Layout | News | Overview | POTW
Railfanning | Railroadiana | Rolling Stock | Snowfighting | Stories | Terminology | What's New

Page created 7/28/98 and last updated 7/28/98
© 1997-2002 John Combs unless otherwise noted